This Quick and Easy Enchiladas Suizas are irresistibly delicious, super tasty, delightfully cheesy, and about to become a new family favorite! Perfect to make ahead of time for busy weeknights.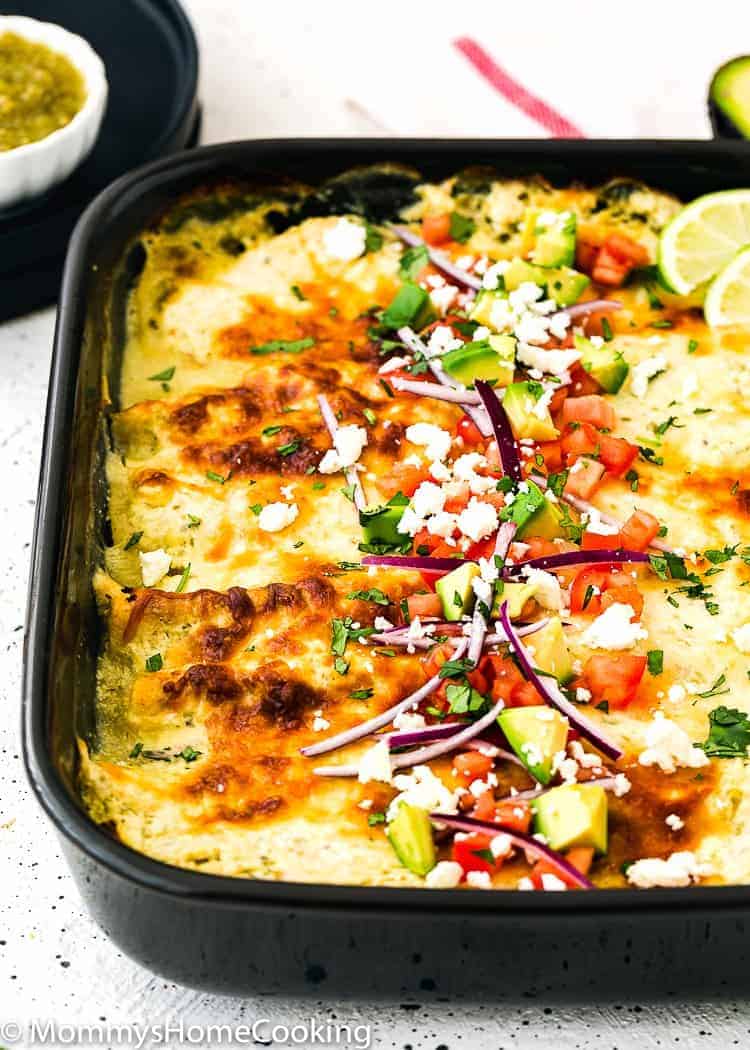 Quick and Easy Enchiladas Suizas Recipe
This Quick and Easy Enchiladas Suizas is a casserole dish made to feed a crowd. Perfect to make ahead of time for busy weeknights or special celebrations.
WHAT ENCHILADAS SUIZAS ARE MADE OF?
Enchiladas Suizas are made with corn tortillas stuffed with tender shredded chicken, salsa verde (green enchilada sauce) and cheese, and then topped with sour cream, heavy cream and enchilada sauce, and cheese.
I LOVE this recipe because it's is so quick and easy to make. Plus, it is picky-eater approved, just make sure the salsa verde is not too spicy for kids.
I've kept this recipe super quick and easy by using store-bought salsa verde but feel free to make your own if you want.
These enchiladas are satisfying, filling, and way better than most Mexican restaurants!
I hope these homemade creamy chicken enchiladas become a family favorite.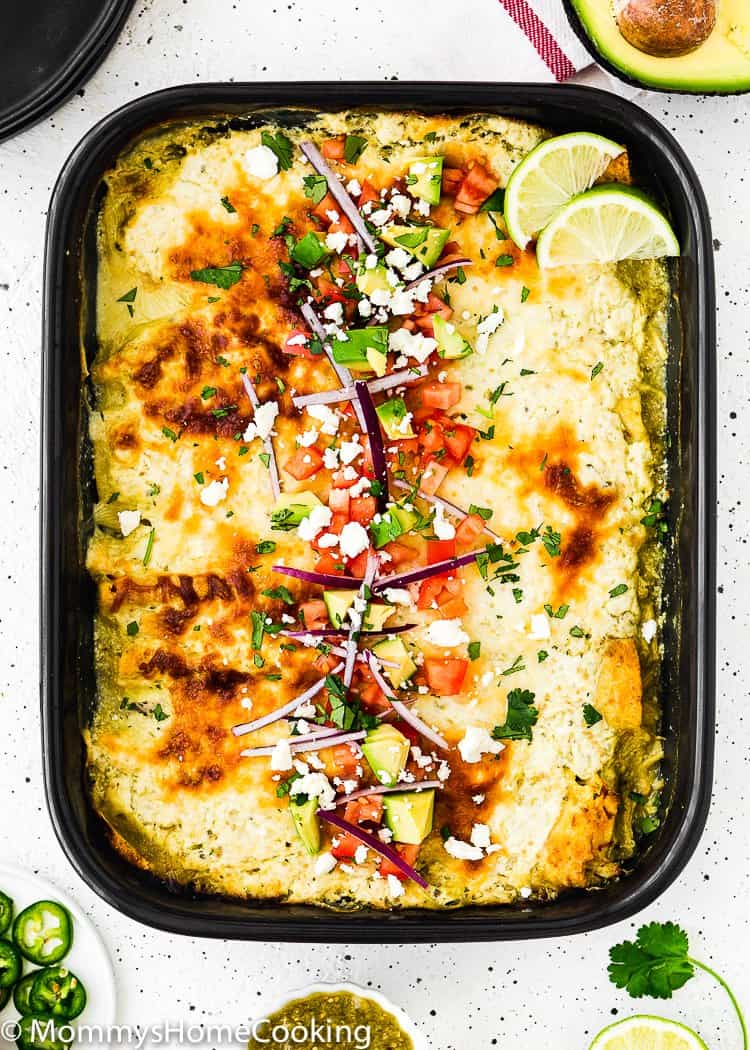 EASY ENCHILADAS SUIZAS INGREDIENTS
You'll need:
Salsa verde (homemade or store-bought)
Cooked shredded chicken (you can use rotisserie chicken)
Oaxaca, Monterey Jack, or white cheddar cheese
Sour cream
Heavy cream
Taco-size corn tortillas
Fresh cilantro
Please check the recipe card at the bottom of the post for exact quantities and instructions (scroll down).
How to cook CHICKEN for ENCHILADAS:
If you don't have chicken leftovers or don't want to run out to the store to buy a rotisserie chicken, it is super easy to make your own shredded chicken in the pressure cooker or stovetop.
Pressure Cooker:
Add the 4 – 6 chicken breasts, 2 cups chicken stock to the bowl of your pressure cooker. Give everything a brief toss to combine.
Secure the lid to the pot and select "manual" or "high pressure" and cook for 15 minutes.
When the time is over, carefully turn the valve to "Venting" to release the pressure. Then remove the lid.
Use 2 forks to shred the chicken. Use as needed.
Stovetop:
If you don't have a pressure cooker, follow the same step, and cook over the stovetop until the chicken is fork-tender. Depending on the size of your chicken breasts, they should simmer for about 15 – 30 minutes. The internal temperature should be 165°. Don't let them overcook or they will become rubbery.
HOW TO MAKE EASY ENCHILADAS SUIZAS
Prepare the baking dish: Pour 1 cup of salsa verde in the baking dish and distribute evenly.
Make the chicken filling: In a large bowl, combine shredded chicken, 2 cups salsa verde, and half of the shredded cheese; mix well. Add salt and pepper to taste, if necessary.
Soften the tortillas: Pour 1 cup salsa verde in a shallow plate for assembling. Dip the tortillas in the salsa, coating on both sides, to soften.
Assemble: Fill each tortilla with the shredded chicken mixture. Fold the tortillas over the filling and roll to close. Place the tortillas in the baking dish, seam side down, creating one row down the center of the dish.
Add the creamy sauce: In a mixing bowl, combine the sour cream, heavy cream, and the remaining the salsa verde from dipping the tortillas. Mix until smooth. Pour the creamy topping over the enchiladas and top with the remaining shredded cheese.
Bake until sauce is bubbling and the cheese is melted on top, 25 -30 minutes. Remove from the oven and let cool for 10 minutes. Garnish with chopped cilantro and add toppings, if desire.
Please check the recipe card at the bottom of the post for exact quantities and instructions (scroll down).
VARIATIONS YOU CAN APPLY TO THIS RECIPE:
Use flour or corn tortillas.
Substitute sour cream for yogurt.
Add 1 can (drained) of black or white beans to the chicken mixture.
If Oaxaca, Monterey Jack, or white cheddar cheese are hard to find, mozzarella cheese will work just fine.
You can customize your enchiladas with any vegetables you like, such as corn or zucchini.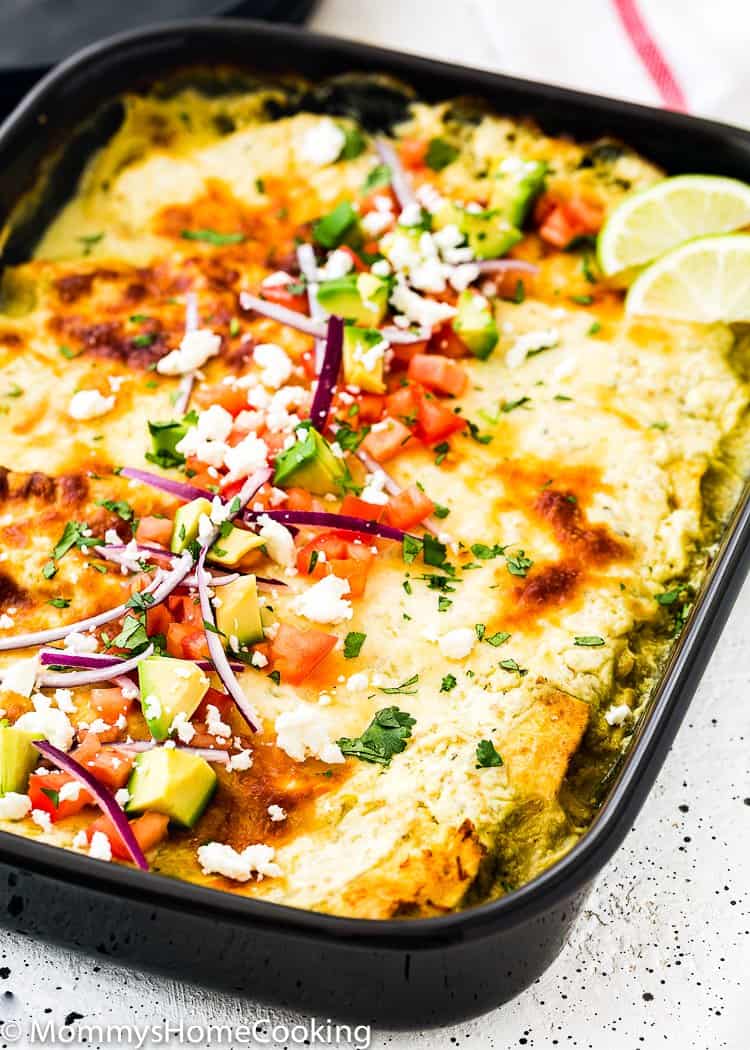 STORE
Cover and keep leftover enchiladas up to 2 days in the refrigerator.
FREEZE
Cover enchiladas tightly with plastic wrap, then aluminum foil. Freeze up to 2 months.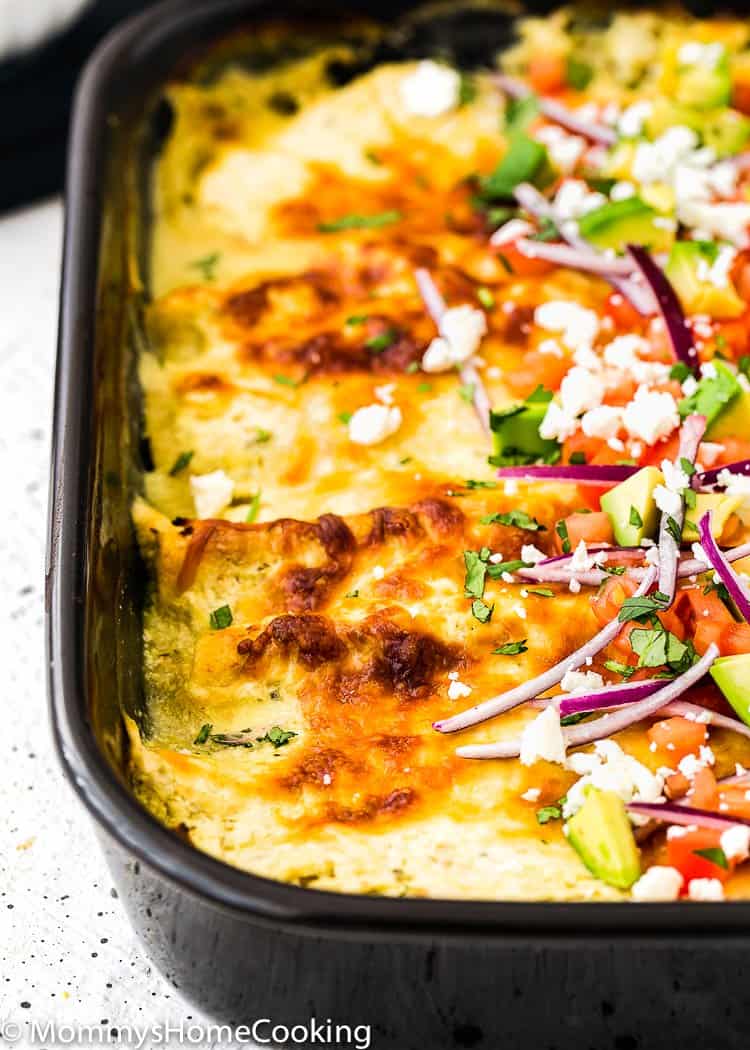 MAKE AHEAD
These Easy Enchiladas Suizas make a fabulous make-ahead dinner you can assemble ahead of time then just pop in the oven! To make ahead, prepare the green enchiladas according to directions, cover tightly with plastic wrap or foil and refrigerate for up to 24 hours.
REHEAT
To reheat, remove the plastic wrap. Bake frozen enchiladas for 45-50 minutes at 350 degrees. Or let the enchiladas thaw, then bake for 30 -35 minutes. Remove the foil for the last 5-10 minutes.
LOOKING FOR MORE EASY MEXICAN DINNER IDEAS?

---
Love what you see? Subscribe to Mommy's Home Cooking so you'll never miss a recipe! Follow along on Instagram, Pinterest, Twitter, and Facebook for more fun!
When you make this recipe, be sure to snap a photo and hashtag it #MommysHomeCooking. I'd love to see what you cook!
* This post contains affiliate links, thank you for the support in keeping Mommy's Home Cooking up and running!