Learn how to make cauliflower pizza crust without eggs. It's delicious and easy to make. Plus, this is a fantastic way to add more veggies to your meals.
This Cauliflower Pizza Crust Recipe – Egg Free have been in the works for a few weeks!
There are many cauliflower crust recipes on the web. Personally, I prepared many of them to try. The only thing I did not like with those recipes is that the crust was very soggy. It was imporsible hold it with hands.  I finally found a perfect recipe; crunchy and tasty. The problem with that on was that it had eggs.
How to make cauliflower pizza crust without eggs:
I slightly adapted the recipe and I used a flax egg instead. It turned out amazingly delicious. You want t try? You just need to have some cauliflower rice on hand. To learn how to make cauliflower rice click here.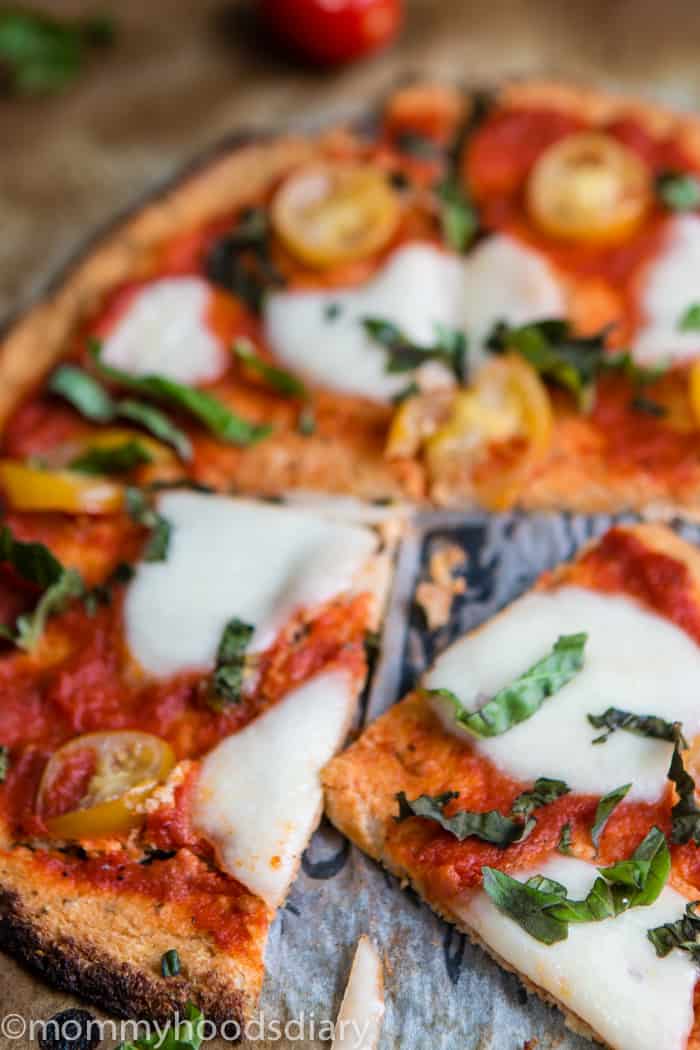 This is a fantastic way to add more vegetables to our meals. My family liked it. Vicky ate it without problems. Matthew only two bites and that was it. I will not lie to you. It is very good but it is not exactly like regular pizza. The dough taste like cauliflower, but not too much. So if you don't like cauliflower maybe this not a good option for you. I LOVE it!. What I liked most is the fact that I'm not eating an excessive amount of calories. If you are counting calories try this pizza soon. It'll make you happy.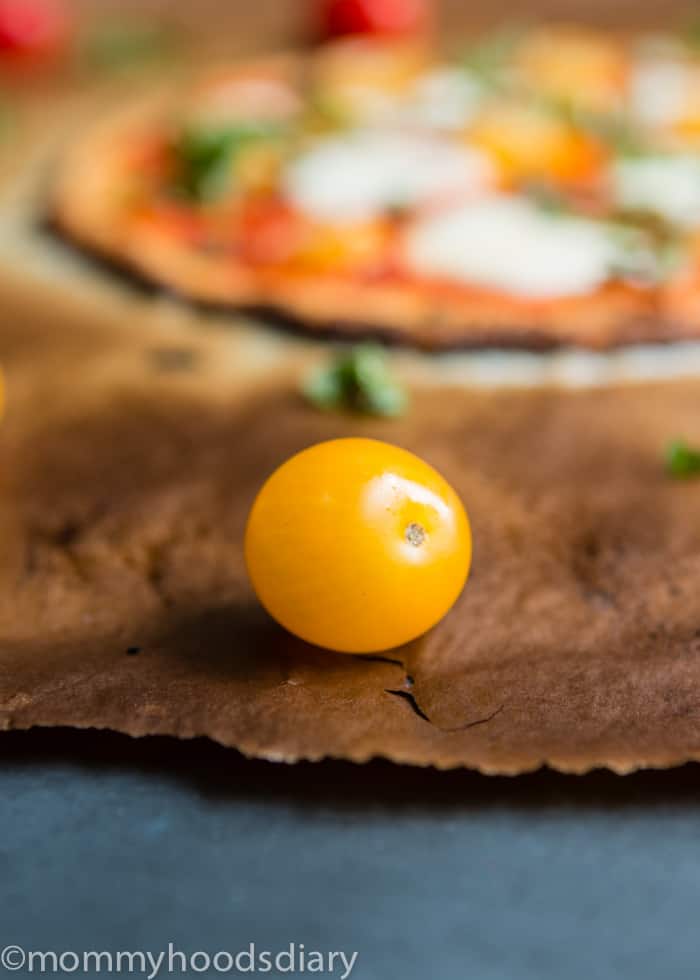 I used my favorite ingredients as toppings, tomatoes, fresh mozzarella cheese and basil. Lots of basil. The mild cauliflower flavor is a nice backdrop to whatever toppings you want to layer on top…The possibilities are endless!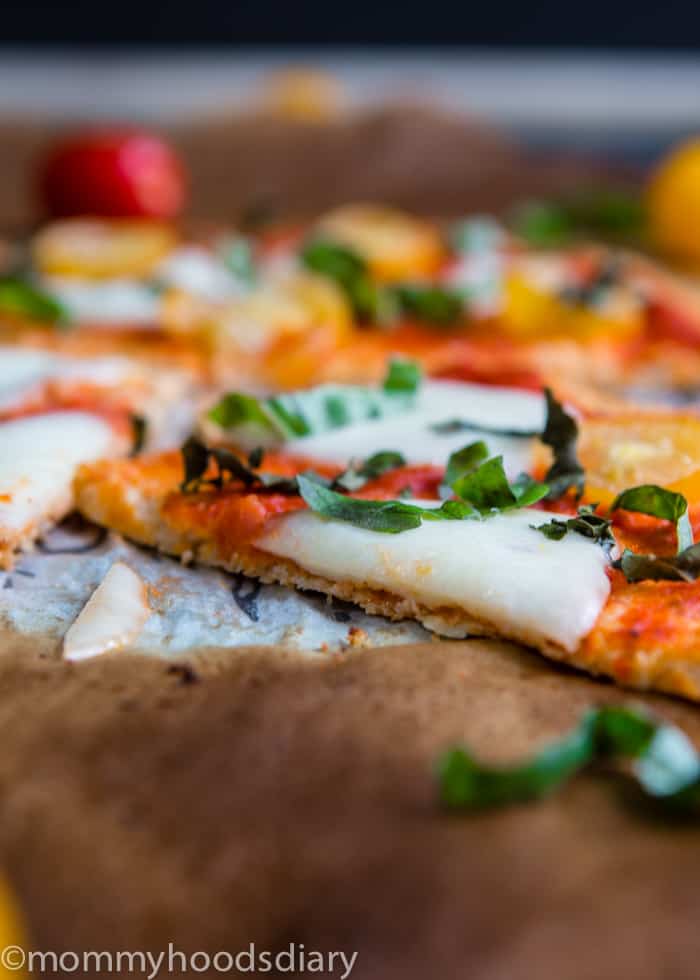 Love what you see? Subscribe to Mommy's Home Cooking so you'll never miss a recipe! Follow along on Instagram, Pinterest, Google+, Twitter, and Facebook for more fun! 
If you make this recipe, be sure to snap a photo and hashtag it #MommysHomeCooking. I'd love to see what you cook!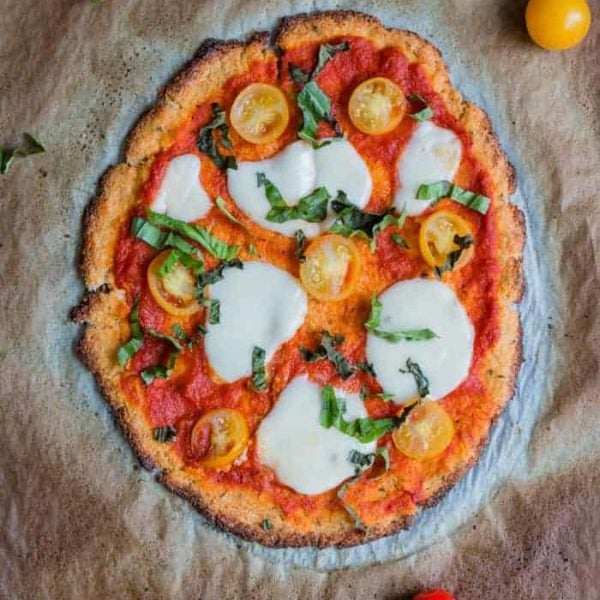 Cauliflower Pizza Crust - Egg Free
Ingredients
2

cups

of water + 3 teaspoons

4

cups

of raw cauliflower rice

1

teaspoon

of ground flax seeds

1/2

cup

parmesan cheese

1/3

cup

cream cheese

1

pinch of salt

1/4

teaspoon

of italian herbs

1 -2

cups

of marinara sauce

2

mediums yellow tomatoes,

sliced

2 - 3

oz

fresh mozzarella balls

(ovolini - egg size)

1

cup

of fresh basil,

finely chopped
Instructions
Fill a large pot with 2 cups of water, and bring it to a boil. Add the raw cauliflower rice and cover; cook for about 4-5 minutes. Drain into a fine-mesh strainer. Place it to a clean thin dishtowel and let it cool a bit. Wrap it up, twist, and then squeeze the excess moisture out. Repeat this step until no water comes out.

Preheat oven to 450º F. Line a baking sheet with parchment paper.

Mix 3 teaspoon of water and ground flax seeds. Let it stand for 5 minutes to thicken.

In a medium bowl mix cauliflower, flax mixture, cheeses, salt and Italian herbs. Mix well using your hands, or you can mix it in the stand mixer with the hook attachment.

Transfer to the center of the baking sheet and spread into a circle, resembling a pizza crust. The thickness will depend on your personal taste, but I recommend you do not spread super thin; 1/3 inch thick works great.

Bake for 20 minutes, or until crust is firm and golden brown.

Add your favorite toppings. In this case, I added marinara sauce, tomatoes, fresh mozzarella and basil.

Return the pizza to the oven, and bake an additional 5-8 minutes, just until the cheese melt and bubbly.

Serve immediately.
Did you make this recipe? I want to see your yummy photos!
Tag @mommyshomecooking on Instagram and hashtag it #mommyshomecooking or Join my Private Facebook Group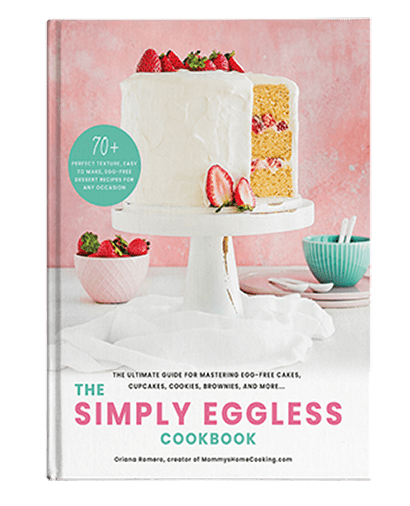 The Ultimate Guide to Eggless Baking!
Includes more than 70 easy-to-make recipes along with full-color photos, detailed instructions, and helpful tips for spectacular results.
Order Now!