Cranberry Honey Pulled Pork  –  This  sweet and tangy recipe is the best slow cooker pulled pork that you'll ever try.
 This experiment turned out to be delicious.
A couple of months ago I was trying to make BBQ chicken, and mistakenly… Well the truth is that my husband literally just added beer, according to him the chicken would be very dry with out it. At the end, the chicken was delicious and since then we have cooked this version more regularly.
I really wanted to prepare pork, but had no idea how. So I decided to replicate the same barbecue-beer combination. I didn't want to have the oven on for hours roasting a piece of meat. Not a good idea. Our house, in these summer days, gets very hot inside and adding more heat was a no-no.
Think. Think. Think.
Bingo … the slow cooker!
I'm no slow cooker master. To be honest I can do a list of a few failures that I had in the past. Generally, I've used it to make grains, such as black beans, since I leave them cooking all night and in the morning are soft and ready.
Anyway … I decided to use the crock-pot.
So I seasoned the pork and then browned it in the skillet. Then I put all the ingredients in the slow cooker and let it cook all night.
The next morning the aroma in the house was incredibly delicious. Mmmm!
It was juicy and tender. Ready to eat if I'd wanted. But I wanted it to be a sweet and crisp combo. So I browned in the oven for a few minutes. Really, I could not ask for a better result. All the juices caramelized the pork and edges were golden and a little crunchy, which gave it the perfect combination of flavor and texture.
This is one of those recipes that you can show off as a cook, but basically the whole thing cooks by itself. Honestly, it does not get better than that! Enjoy.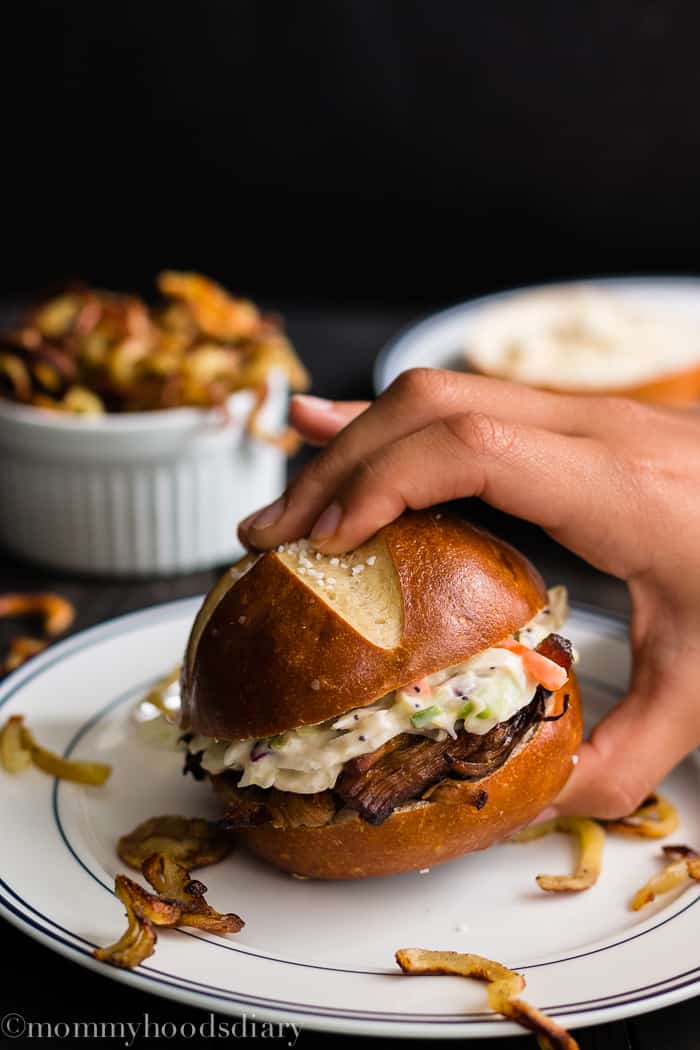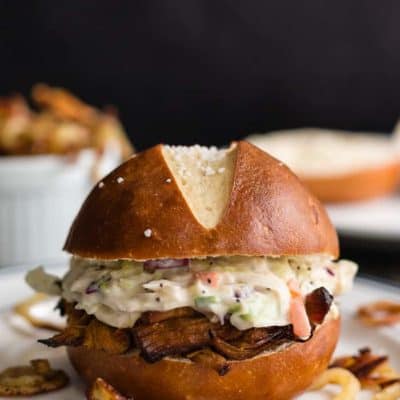 Ingredients
Cranberry Barbecue Sauce:

1

oz

can whole berry cranberry sauce

14

1/2

cup

honey

1/4

cup

ketchup

1/4

cup

red wine vinegar

1/2

teaspoon

garlic powder

1/2

teaspoon

salt

1/4

teaspoon

black pepper

2

tablespoons

Worcestershire sauce

Pork:

2

tablespoons

corn or canola oil

1

lbs

pork shoulder

approx. 2 -3

Black pepper

Cayenne pepper

1

medium onion

chopped 4

5

cloves

of garlic

peeled and crushed

1/4

cup

apple juice

6

ounces

dark beer

I used Dos equis amber
Instructions
To make the cranberry sauce put all ingredients in a small saucepan over medium heat. Mix well. At first boil, reduce heat to low, cover and cook for 20 minutes.

Season the pork with salt, black pepper and cayenne pepper to taste. Be generous.

In a large fry skillet over medium-high heat, warm the oil. Add the pork and brown well on all sides, about 10 minutes total.

Place the pork in the slow cooker. Add onion and garlic. Cover the pork with cranberry sauce and then add the beer. Cook for 8 hours on low or 4 hours on high. The pork should be so tender that meat falls apart easily. Using two forks pull apart the pork, removing excess fat.

Heat oven to 450 ° F. Line one baking sheet with foil and spray with cooking oil.

Place pork in sheet, with juices, and bake for 15-20 minutes, or until most of liquid has caramelized and the pork looks golden. Remove from oven.

Add a generous portion of pork on a bun with some coleslaw, if desired.

Serve immediately and enjoy!
Notes
If you liked more juicy reduce the time in the oven.