Eggless Turkey and Spinach Meatballs – These egg-free meatballs are very juicy, tender and packed full of flavor. They're easy to put together … Dinner in a flash!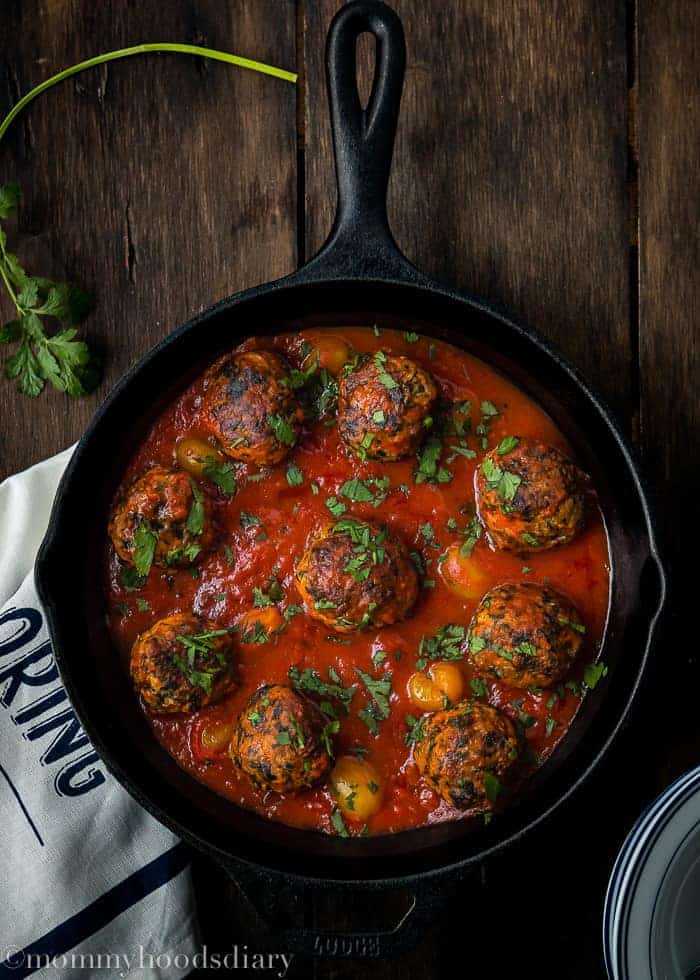 My kids Love. Love. Love meatballs. Any kind of meatballs! But making meatballs without eggs is quite challenging. They end up too dry and hard or too fragile and break when cooking. Let me tell you that I have been testing and re-testing this recipe for quite some time, and I finally nailed it!
These meatballs are easy to make, quick, and bursting with yummy flavor. In other words … they're so good!
Many of you have been asking me about Victoria's egg allergy and I want to thank you all for your kind messages. It's very gratifying to know that your little ones enjoy my recipes. I know that egg allergy can be hard. I mean, so many foods are made with eggs and egg products that it can be really hard to know what's OK and not OK to eat. Although, there's a growing awareness about food allergies sometimes I don't feel comfortable eating out, so developing these eggless recipes it's one of my priorities.
The thing I love about meatballs is that they're so versatile. You can make them with pork, turkey, chicken, or beef. These meatballs are perfect over rice, some mashed potatoes, and of course over some noodles.
As usual, I didn't waist the opportunity to hide/camouflage some veggies to add an extra bit of wonderfulness to these meatballs. This time was spinach, but other times I've added red pepper, kale, quinoa, etc…
This is an easy, comforting, budget-friendly meal that the whole family will love. You can also make the meatballs ahead of time or freeze them as needed!

Eggless Turkey and Spinach Meatballs
Ingredients
2

tablespoons

buttermilk

4

saltine or soda crackers

crushed into fine crumbs

1/2

cup

onion

finely chopped

1

teaspoon

dried oregano

2

cloves

garlic

minced

1

cup

chopped spinach

thawed and squeezed dry

1/4

teaspoon

salt

1/4

teaspoon

black pepper

1/4

cup

Parmesan cheese

finely grated

1

pound

extra lean ground turkey

2

tablespoons

– 3 extra-virgin olive oil

1 1/2 - 2

cups

jarred tomato sauce

1

tablespoon

snipped fresh basil
Instructions
In a medium bowl combine buttermilk, crushed crackers, oinion, oregano, garlic, spinach, salt, pepper, and parmesan. Add ground turkey; mix well. Using fingers, gently mix all the ingredients until thoroughly combined.

Form into 1 1/2-inch balls.

Heat the oil in heavy large frying pan over medium high heat. Add the meatballs and saute until browned on all sides, about 5 minutes. Add the marinara sauce. Simmer over medium low until the sauce thickens slightly and the flavors blend, about 10 minutes. Season the sauce, to taste, with salt and pepper if necessary.
Recipe Notes
The key to a light, juicy meatball is DON'T OVERMIX! Overworking the mixture can lead to dense meatballs.