This Venezuelan Pernil is flavorful and scrumptious! Discover the foolproof cooking method to make this guest-worthy dish without slaving over.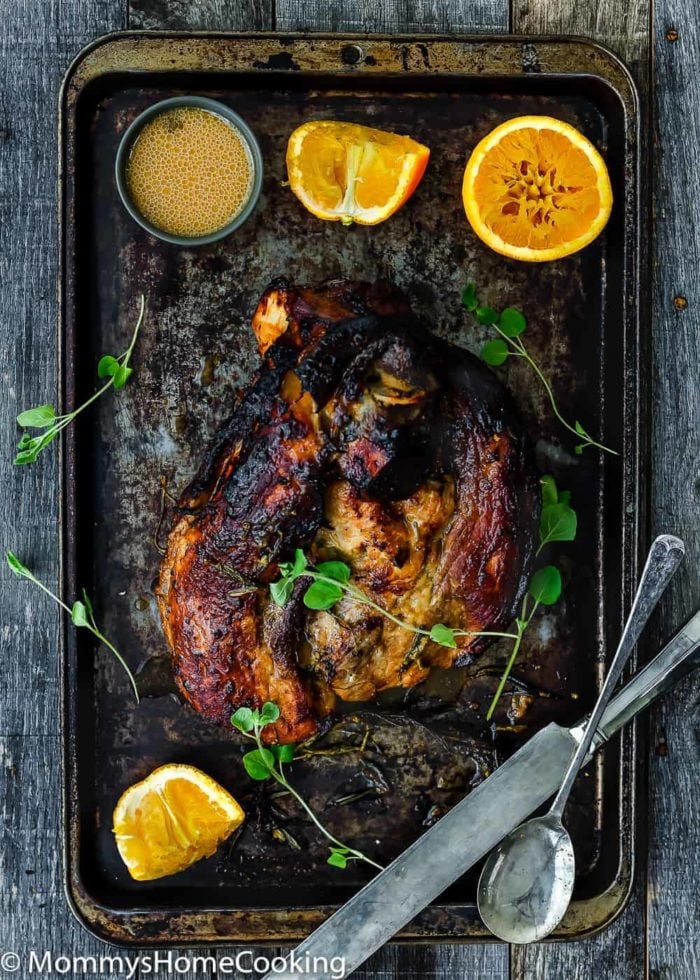 Venezuelan Pernil Recipe
When fall arrives, it's easy for me to get excited about the holidays!! Seriously, Halloween is around the corner, then comes Thanksgiving, and Bam… Christmas is here.
I don't want to sound crazy, Holidays may seem far away, but it's only 55 days away. Yep…just 8 weeks! So I really need to plan ahead if I want to share all my favorite holiday recipes, that for some reason or other, I haven't shared yet.
So what a better way to start than with a juicy rustic, tremendously tender, and tastes ridiculously delicious Venezuelan Pernil.
This succulent piece of meat is a holiday staple in Venezuela. It's served with Hallacas (Venezuelan tamales), Pan de Jamon (Venezuelan ham, olive and raisins stuffed bread), and Ensalada de Gallina (potato and chicken salad).
But to be honest, Pernil wasn't always my first option when it came to holiday dishes because it took such a long time and effort to make. I mean like 4 to 6 hours, depending on how big the pork is, of roasting and basting. That is why I got so excited when I discovered that I can prepare Pernil without slaving over.
How?
Using a Reynolds® Oven Bag!!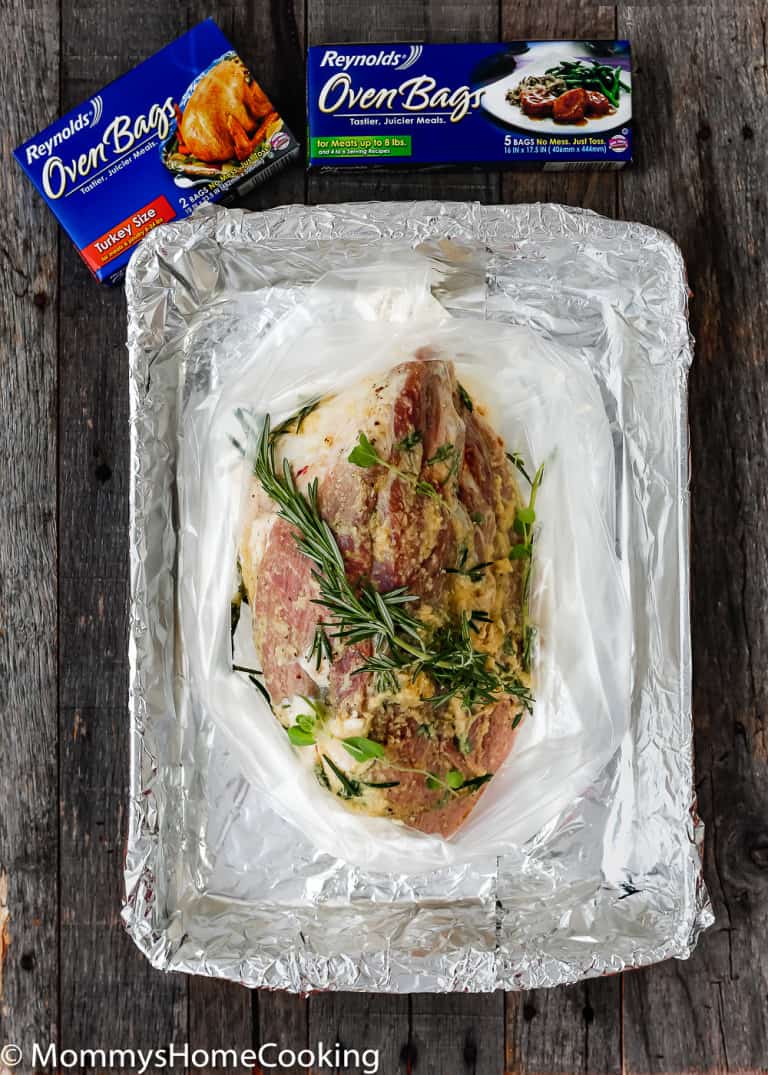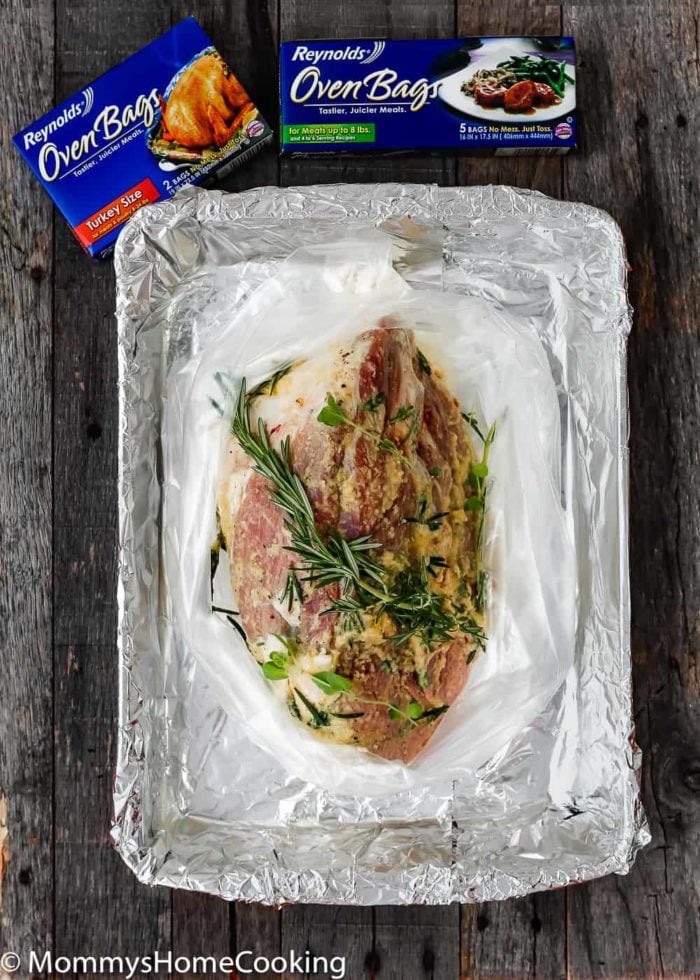 Oh. Em. Gee. I do not know why it took me so long to discover this trick. It cuts the cooking time significantly. Plus, the bag traps in moisture and natural juices to keep food from drying out so it comes out juicy and tender.
This incredibly savory and guest-worthy dish Pernil will make your taste buds dance.
A picture's worth a thousand…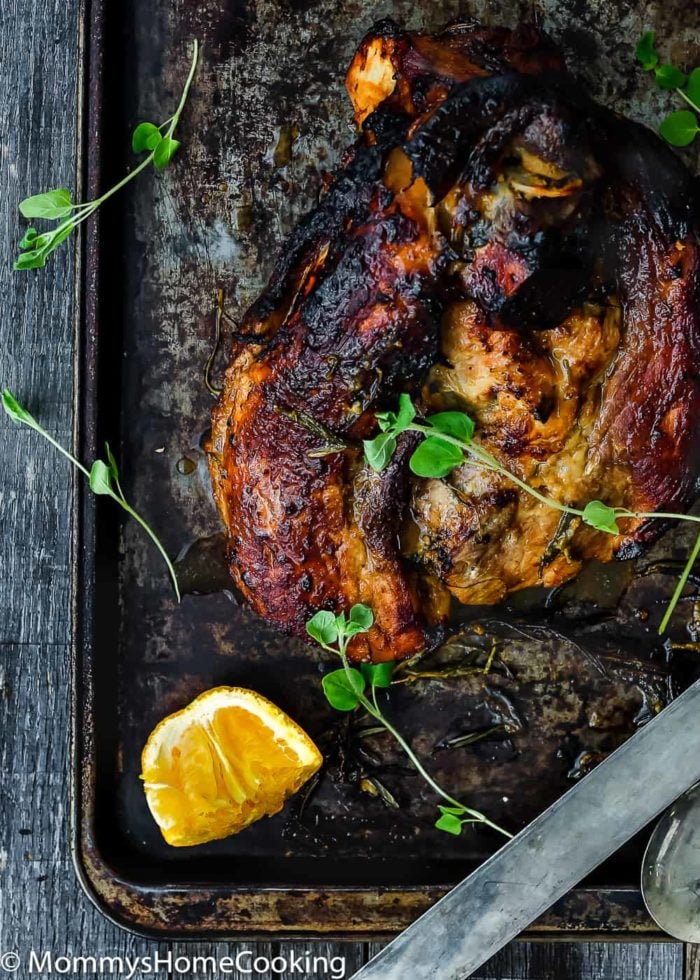 Love what you see? Subscribe to Mommy's Home Cooking so you'll never miss a recipe! Follow along on Instagram, Pinterest, Twitter, and Facebook for more fun! 
If you make this recipe, be sure to snap a photo and hashtag it #MommysHomeCooking. I'd love to see what you cook!
Venezuelan Pernil
This Venezuelan Pernil is flavorful and scrumptious! Discover the foolproof cooking method to make this guest-worthy dish without slaving over.
Ingredients
1

(8 – 10 lb) whole bone-in skinless pork shank

(pork ham)

Salt and black pepper

1

tablespoon

Reynolds® Oven Bag + 1 flour

(optional)

1/2

cup

(120 ml) cola soda

1/2

cup

(120 ml) beer
Marinade:
½

cup

(120 ml) vegetable oil

1 1/2

cups

(360 ml) orange juice

2

tablespoons

(30 ml) lime juice

2

tablespoons

(30 ml) Worcestershire sauce

15

garlic cloves,

peeled

1

onion,

chopped

4

fresh sprigs oregano

2

fresh sprigs rosemary

1

bay leaf
Instructions
Wash the pork and pat the meat dry with a paper towel. Then, use the knife to poke 1-inch deep holes into the meat on all sides. Rub salt and pepper generously all over the pork, working it into the punctures. Set aside.

Combine oil, orange juice, lime juice, Worcestershire sauce, garlic, and onion in a blender and blend until finely chopped.

Place pork in a large ziplock bag. Add marinade, oregano, rosemary, and bay leaf. Place in the fridge overnight.

Remove the pork from the refrigerator 1 hour before you start cooking.

Preheat oven to 350º F (arrange racks in the middle). Line a roasting pan with aluminum foil for easier cleanup.

If using the oven bag: Shake 1 tablespoon of flour inside the Reynolds® Oven Bag and place it in the roasting pan. Carefully place the pork and the marinade into a Reynolds® Oven Bag, making sure the bag's opening faces the end of the roasting pan, and not facing up. The bag should be inside the pan, not hanging over the pan's edges—close the oven bag with the included nylon tie.

If you are not using an oven bag: Place the pork and marinade in a roasting pan.

Bake for 2 to 2 ½ hours, or until the pork reaches an internal temperature of 150°F in the thickest part.

If using an oven bag, remove the roasting pan from the oven, cut open the top of the bag, and carefully remove it. If not, go to the next step.

Pour the cola soda and beer over the pork and return to the oven to roast for further 30 - 45 minutes, basting with juices the pork 2 -3 times, or until the pork reaches 160°F in the thickest part.

Remove pork onto a serving platter, cover loosely with foil and let it rest for 20 minutes before slicing.

Strain all the juices through a fine-mesh strainer to remove, fat, herbs, and bay leaf. If you want to thicken the sauce, place it in a saucepan and simmer on medium-high for 5 minutes or until it reduces down to a syrupy consistency. To thicken, even more, you can add 2 tablespoons of cornstarch mixed with 2 tablespoons of water.

Cut meat from the bone. Serve and pan juices.
Ask your butcher to trim off as much fat as possible from the pork.
Cook time does NOT include marinating time. Cooking times will vary somewhat depending on the size of the pork and your oven, so using a meat thermometer is highly recommended.
Looking for more Venezuelan recipes?
★ Did you make this recipe? Don't forget to give it a star rating below!
Please note that nutritional information is a rough estimate and it can vary depending on the products used.
Nutrition
Calories:
567
kcal
Carbohydrates:
9
g
Protein:
79
g
Fat:
21
g
Saturated Fat:
12
g
Cholesterol:
239
mg
Sodium:
362
mg
Potassium:
1334
mg
Sugar:
5
g
Vitamin A:
115
IU
Vitamin C:
22.2
mg
Calcium:
68
mg
Iron:
3.3
mg
Did you make this recipe? I want to see your yummy photos!
Tag @mommyshomecooking on Instagram and hashtag it #mommyshomecooking or Join my Private Facebook Group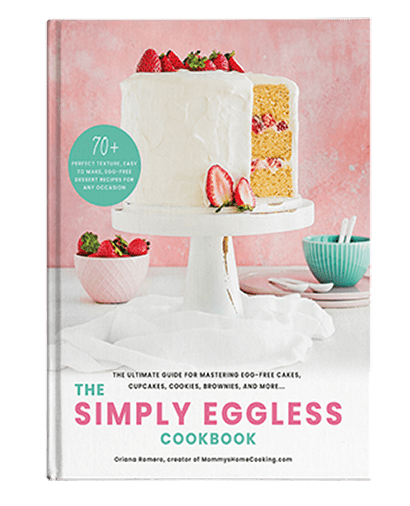 The Ultimate Guide to Eggless Baking!
Includes more than 70 easy-to-make recipes along with full-color photos, detailed instructions, and helpful tips for spectacular results.
Order Now!

---
Disclosure: This is a sponsored recipe as a Reynolds Kitchen ambassador. However, all opinions expressed are my own as always. Thank you, though, for supporting them and the other brands which help make this site possible.