These Venezuelan Sweet Corn Fritters (Mandocas) are delicious corn bites that are crunchy on the outside, and soft and cheesy on the inside.
Venezuelan Mandocas Recipe
It is November!! Can you believe it? In a few days, everything will begin to look and sound a lot like Christmas and fall will be ripped out from under our boots.
Actually, the other day, I found myself staring at Christmas decorations and my immediate reaction was: Really??? It's still a few weeks until Thanksgiving! Now the stores are full of Christmas starting in October. They seem to start earlier every year!
Another sign that the holidays are fast approaching is the time change. Tonight the clock will fall back an hour. Every time this happens I feel like I lose half of my workday because It starts getting dark outside so early that all I want is to put my PJs on and start watching Lost. BTW, we're totally hooked by that TV show. We're currently on season 3 and we have 70 more episodes to watch.
Anyways…
With all these things signaling the holidays are coming fast my memories of past Christmas plus the misbehavior of my sweet tooth played me a trick and I have been craving really bad these Sweet Corn Fritters (Mandocas) for days. Despite all my efforts, I couldn't get them off of my mind so I had no choice but to prepare them.
I love to eat them as breakfast treats with a cup of café con leche.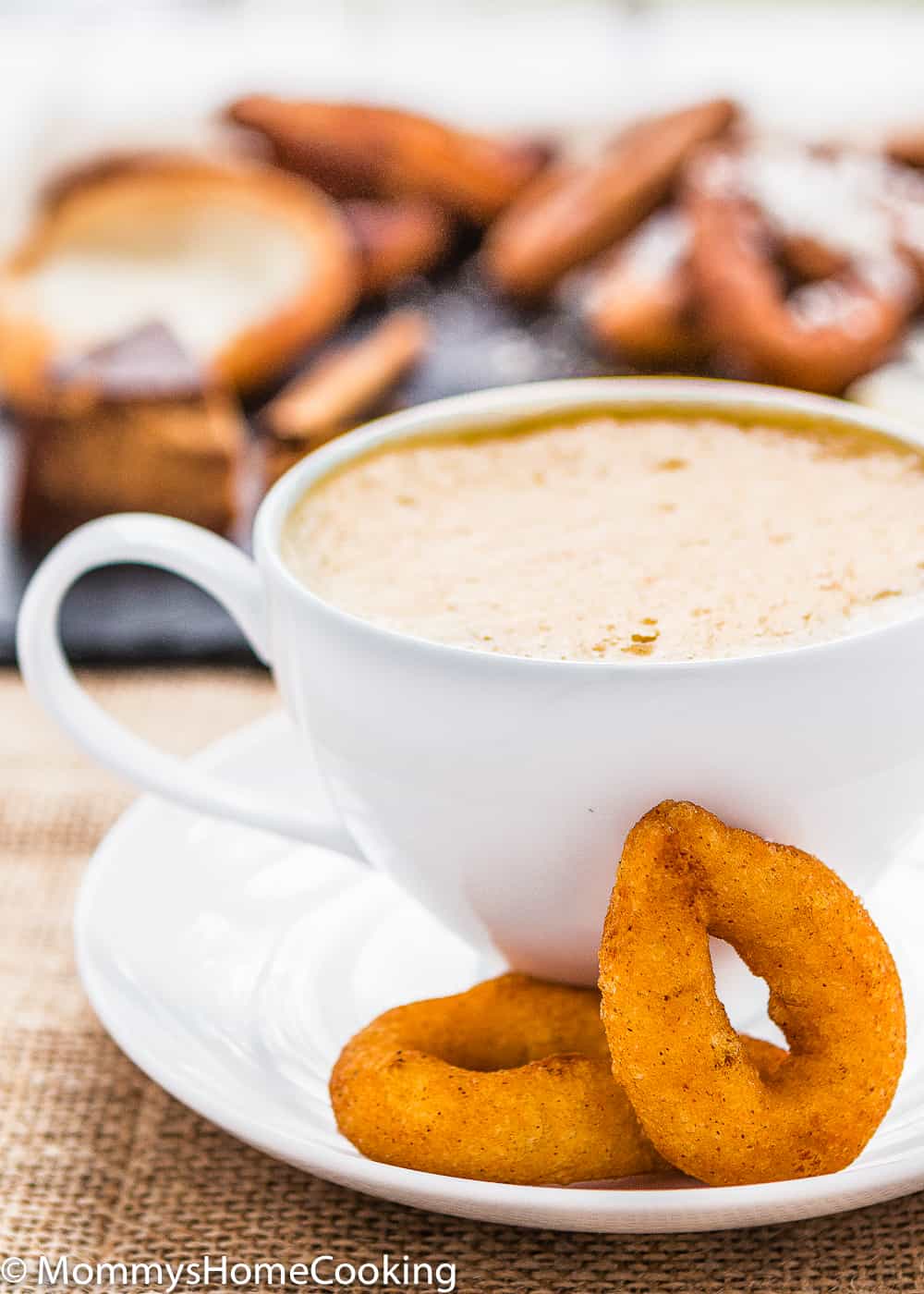 How to make Venezuelan mandocas
These delicious Venezuelan fritters (Mandocas) are extremely quick and easy to make. They're made with corn flour (Harina PAN) and grated white cheese. The sweet touch of this recipe could be added in two different ways: the traditional, preparing a papelon and spices syrup, and fast way in which you only add granulated sugar to the dough.
I have done both, and of course, the traditional way help the fritters to have a more delicious and deep flavor. They taste a little bit like hush puppies and are often served with some more white cheese. I say "some more cheese" because they already have cheese in the dough.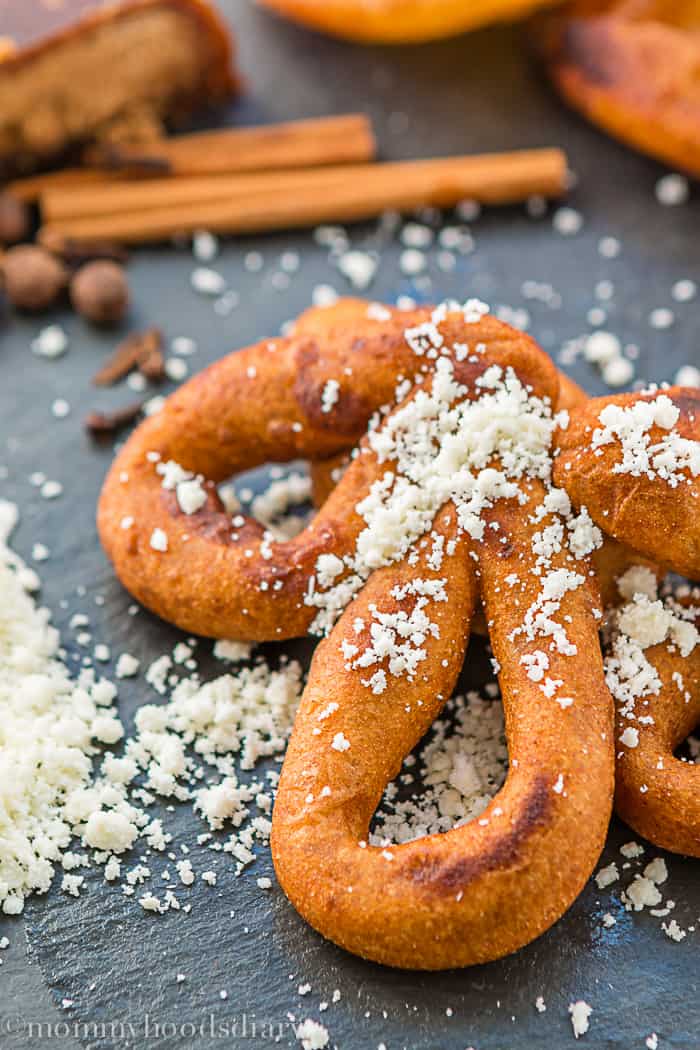 Looking for more Venezuelan recipes?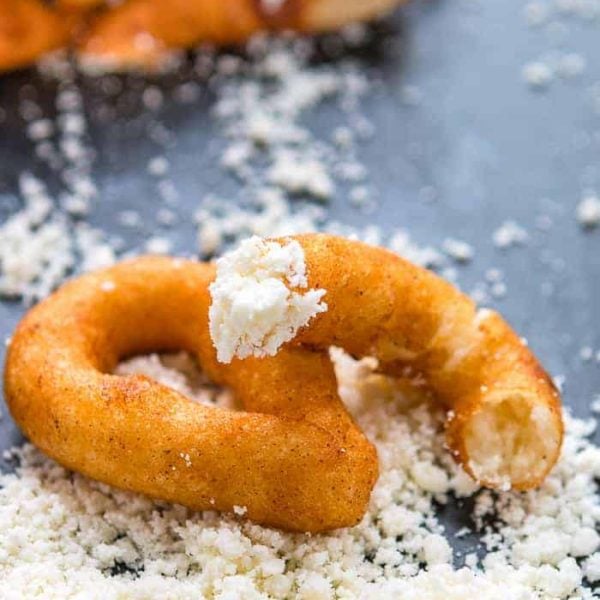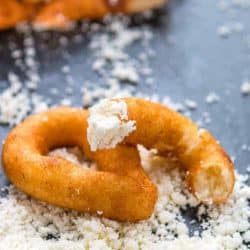 Venezuelan Sweet Corn Fritters
These Venezuelan Sweet Corn Fritters (Mandocas) are delicious corn bites that are crunchy on the outside, and soft and cheesy on the inside.
Ingredients
For the syrup:
2 1/4

cup

water

1 1/4

cup

papelon (Brown Sugar Cane),

grated *see notes below

2

allspice berries

1

cinnamon stick

2

teaspoon

anise seeds
Dough:
2

cups

Harina PAN

2

cups

papelon syrup

1

cup

Queso Blanco (white hard cheese)

grated *see notes below

Corn oil for deep-frying

(you can also use any other oil with a neutral taste)
Instructions
Prepare the syrup: Add all the ingredients in a small saucepan over medium heat. Bring to a boil, stirring occasionally, and cook for 2-3 minutes or until the papelon is dissolved. Remove from heat and cover for 15 - 20 minutes to steep spices and cool. Once cool remove spices from the saucepan and discard.

Prepare the dough: Wash your hands. In a medium bowl stir corn flour and syrup together with your hands. Knead until mixture comes together and has no lumps. Add cheese and continue kneading until fully incorporated. The dough should be firm enough holds its shape without cracking when molded, soft and kneadable (like playdough), but not sticky. If it is too soft add a little more of corn flour; if too hard add a little more water. Let dough rest for 5 minutes. Divide the dough into 20 equal-size balls. Set aside.

Assemble fritters: Take a ball and place it over the countertop. Roll, with the palms of your hands, into a cylinder until dough is 5-6 inches long. Bring ends together and overlap them to form a tear- loop. Press ends together. Repeat until you finish with all the dough.

To fry: Add oil to a medium heavy pot. Heat it over medium heat until reach 375º F. Carefully add the shaped dough to the oil, 4 – 5 at a time, and fry until golden about 2 minutes, turning once. Drain on paper towels.

Serve immediately with cheese if desired.
I used Queso Aserrin. This most seems in texture to Venezuelan white cheese that I've found in the area where I live. It's sold in Latino stores and it comes already grated in a bag. If you don't find this brand you use can use any other white cheese with a hard/firm texture, like cacique queso Blanco.
Don't overcook the syrup or it will thicken too much. For this recipe, we need very watery consistency syrup.
Papelon is also known as piloncillo, panela, or rapadura, it's unprocessed cane sugar sold in hard, flat discs or cones in most groceries stores. Look in the international aisle.
Looking for more Venezuelan recipes?
Don't forget to give it a star rating below!
Please note that nutritional information is a rough estimate and it can vary depending on the products used.
Nutrition
Calories:
186
kcal
Carbohydrates:
42
g
Protein:
2
g
Fat:
2
g
Saturated Fat:
1
g
Cholesterol:
4
mg
Sodium:
37
mg
Potassium:
42
mg
Fiber:
1
g
Sugar:
33
g
Vitamin A:
40
IU
Vitamin C:
0.1
mg
Calcium:
55
mg
Iron:
0.5
mg
Did you make this recipe? I want to see your yummy photos!
Tag @mommyshomecooking on Instagram and hashtag it #mommyshomecooking or Join my Private Facebook Group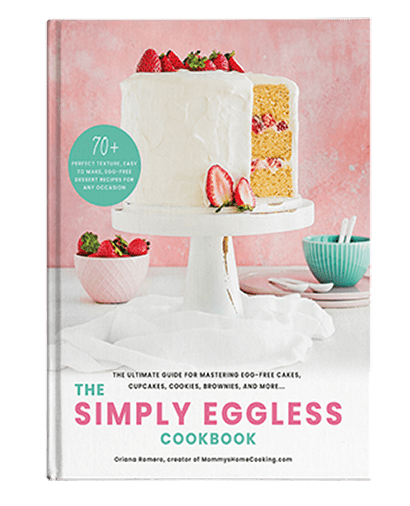 The Ultimate Guide to Eggless Baking!
Includes more than 70 easy-to-make recipes along with full-color photos, detailed instructions, and helpful tips for spectacular results.
Order Now!

---
Love what you see? Subscribe to Mommy's Home Cooking so you'll never miss a recipe! Follow along on Instagram, Pinterest, Twitter, and Facebook for more fun! 
When you make this recipe, be sure to snap a photo and hashtag it #MommysHomeCooking. I'd love to see what you cook!
* This post contains affiliate links, thank you for the support in keeping Mommy's Home Cooking up and running!