Easy Venezuelan Pepper Tamales –  this scrumptious side dish is perfect for any summer supper, party or barbecue!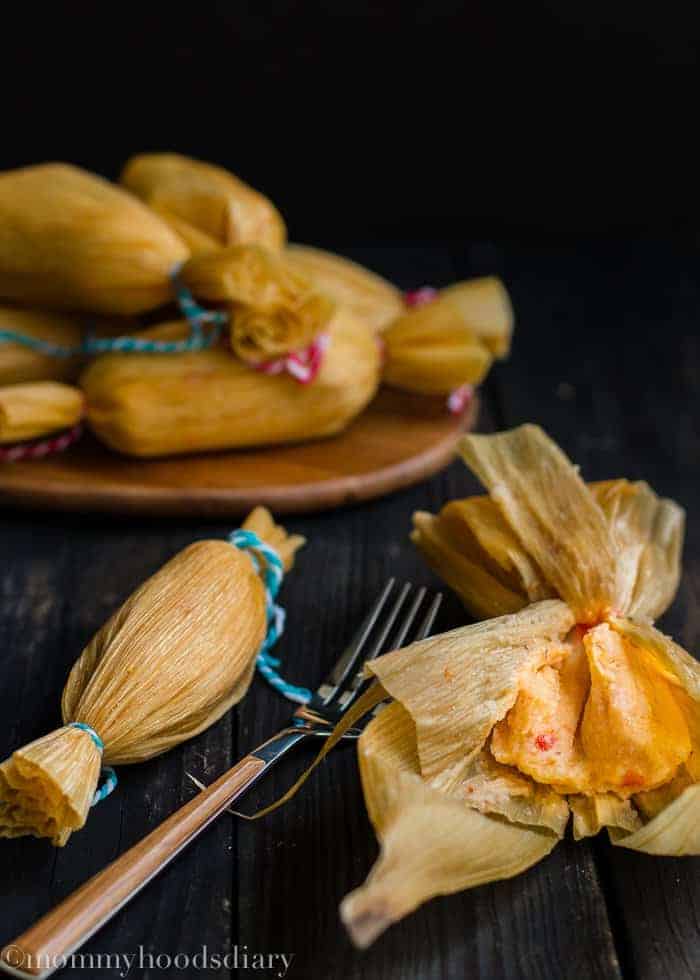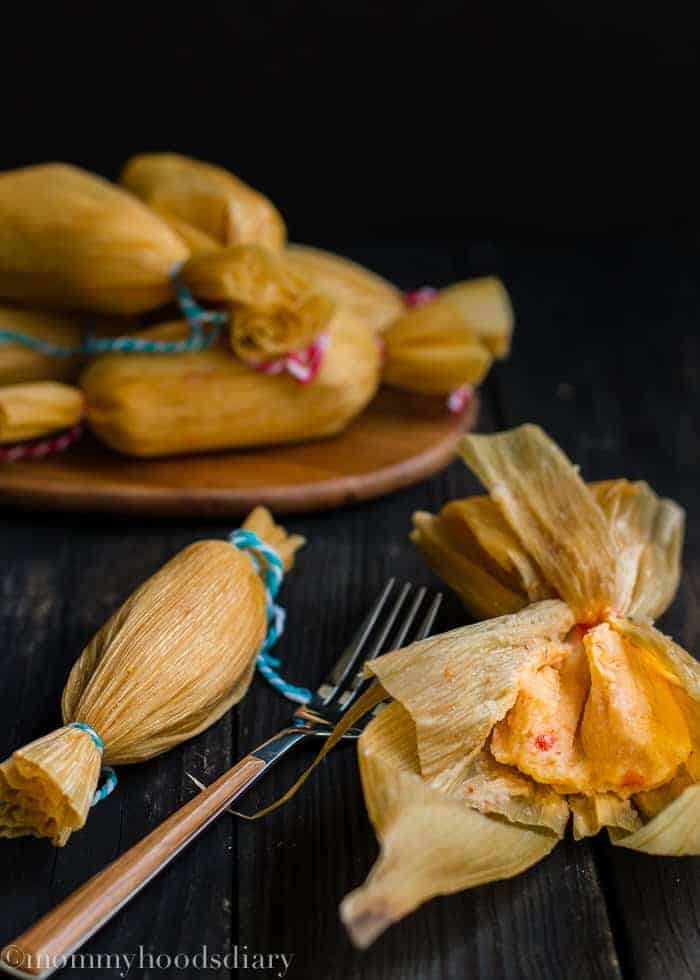 Mmmmhhhhh … hallaquitas (tamales)!
Seriously, every bite was a delight. I don't  know whether it was because its been so long since I had one, or what, but I don't  think these hallaquilas needed anything else. Maybe the wrapping would not be approved by a "pro", but the taste and texture could not have been better.
In Venezuela hallaquitas are very famous. They  are make with corn flour, combine with anise seeds, or chicharron (fried pork skin), or the ones I made today, that are known as seasoned hallaquitas. They are usually eaten as a side dish with grilled meat or roasted chicken.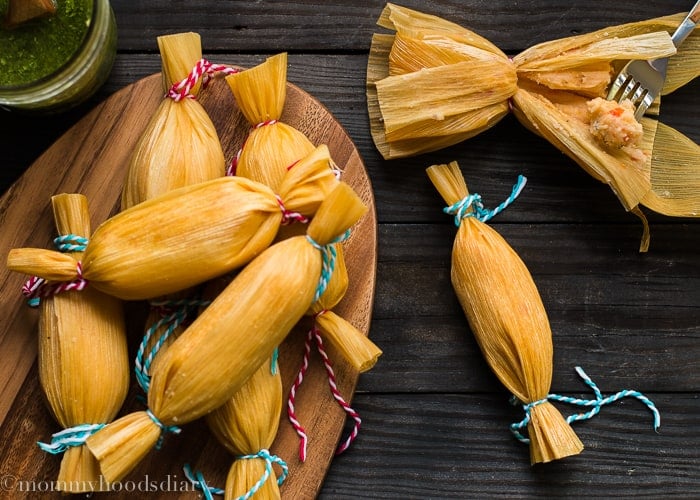 I remember there was a food truck, near to my home in Venezuela, that  sold grilled meat with hallaquitas, and right next to it, there was another food truck selling tostadas and hot dogs cart. My husband, at that time my boyfriend, and I loved to eat there. It was also very cheap.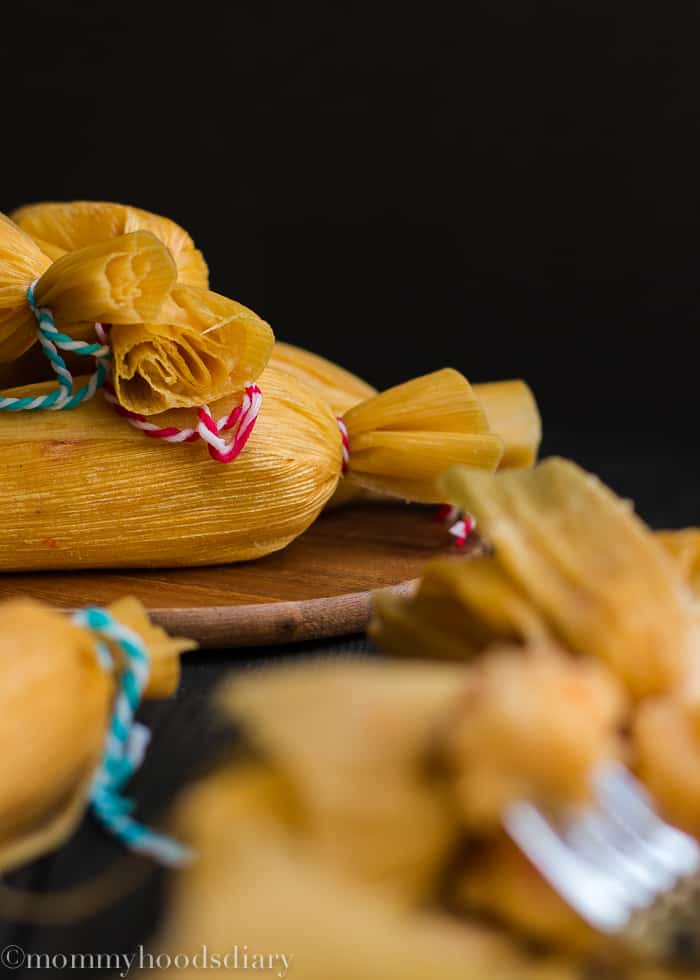 This is a recipe I had wanted to make for quite some time. This was my first attempt, so I checked with several people before I made them. I looked in my Venezuelan recipes's book, and of course, I had my mom's number on speed dial in case any problem aroused. Thank goodness nothing happened. The whole process was very easy. I started at around 10 am and they were ready for lunch, at 1 pm.
It was also my first time using Maseca. I loved it. Maseca offers a variety of gluten-free corn flours, with which you can make all kinds of Latin dishes. My next recipe will be "Bollos Pelones"… stay tuned!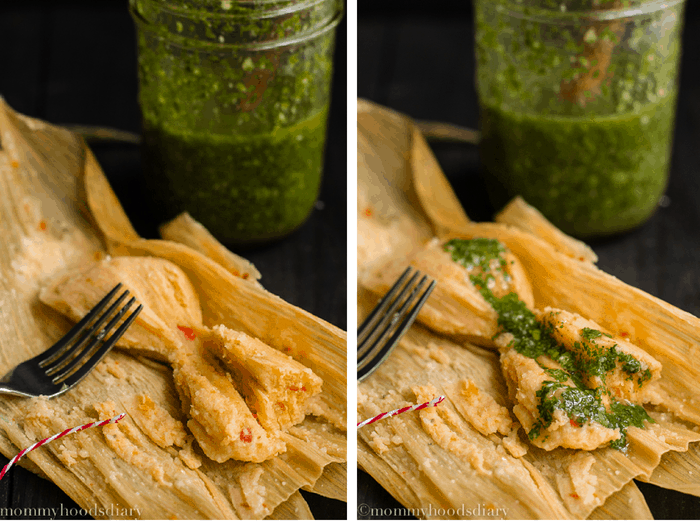 I also prepared a cilantro mojo sauce and it was insanely good!
These Hallaquitas are ideal for the summer time, in which we eat a lot of grilled meats. They are the perfect side dish; and now that I know how easy they are to make, they will be on my menu more often.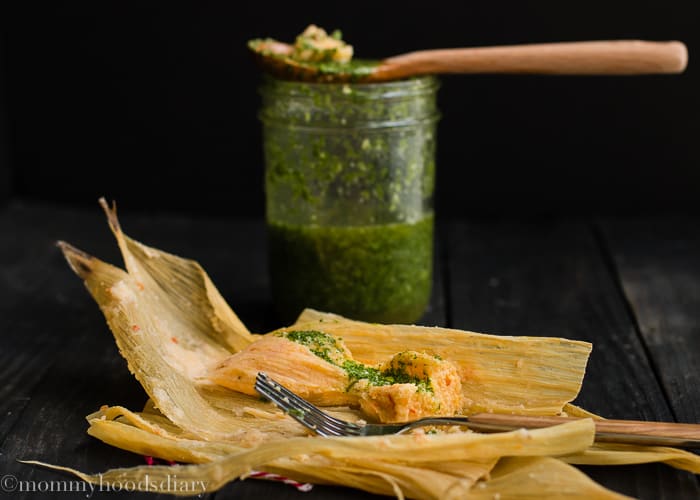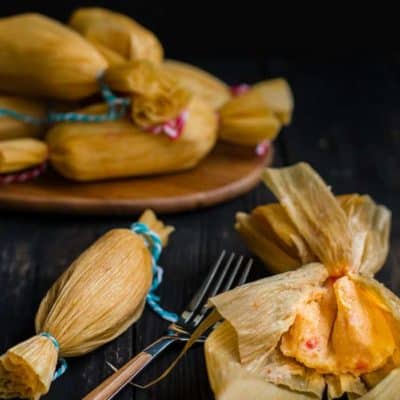 Easy Venezuelan Pepper Tamales
Ingredients
20

dried corn husks

soaked for at least 12 hours

3/4

cup

vegetable shortening

3

cups

chicken broth

1/2

cups

red pepper

washed, seeded and coarsely chopped (about 1 1/2 )

6

small red sweet peppers

washed, seeded and coarsely chopped

1

teaspoon

cayenne pepper

1

teaspoon

garlic powder

3

cups

flour Maseca for Tamales

teaspoon

Salt to taste

I added about 1
Instructions
Soak corn husks in water overnight.

Fill 3/4 of a large pot (7-1/4-qt) with water and bring to boil over medium heat.

Melt the shortening in the microwave. Set aside.

Place in blender chicken broth, red peppers, sweet pepper, cayenne pepper and garlic powder. Blend on medium speed until vegetables are dissolved in the broth.

Transfer the broth to a large bowl and gradually add the Maseca flour. Stir constantly, with your hands or a wooden spoon, to prevent lumps. Let it stand for 5 minutes. The dough will be slightly thickened.

Add vegetable shortening gradually and continue mixing. The mixture should have a smooth consistency, such as peanut butter, If not, add more broth as necessary. Try and adjust salt according to your taste.

Take one corn husks and rinse and clean thoroughly. Drain well and pat dry. Place about 1/2 cup of dough in the middle of a corn husk. Fold the sides covering the dough and making a kind of roll. Tie the ends tightly, using kitchen string or raffia, just where the dough ends. Repeat the same procedure until finishing the dough. You will come out with 14-16 tamales (hallaquitas).

Place them in the boiling water, cover and cook over medium-low heat for 50-60 minutes, or until mixture is no longer sticky. To know if done, put one tamale on a plate and take off the corn husk. If it comes off without sticking to the tamale they are done.

Remove tamales from the pot and place them upright in a large colander to drain excess water. Let stand for 15 minutes before serving.

[img src="http://mommyshomecooking.com/wp-content/uploads/2014/07/Step-by-step-how-to-make-tamale-700x417.jpg" width="700" height="417" class="aligncenter size-large" title="Step-by-step-how-to-make-tamale" alt="Step by Step How to Make Tamales"]
If you want to see more tasty recipes follow the hashtag #MasecaNosGusta
Disclosure: This post was sponsored by Maseca.