These Easy Eggless Blueberry Scones are tender and buttery with a crisp outer layer. They are made with simple ingredients, one bowl, and two hands in just a few minutes.
Eggless Blueberry Scones Recipe
As you might notice, in this home we LOVE eggless scones! Last week, I shared my kid's faves version: Eggless Chocolate Chip Scones. And today, I am sharing my favorites: Eggless Blueberry Scones.
These Easy Eggless Blueberry Scones are crisp, buttery, and soft. Totally irresistible!
This delicious Eggless Blueberry Scones recipe can be made with one bowl and two hands in just a few minutes.
Perfect for breakfast, brunch, snack time, and wherever coffee or tea is appropriate. In my world, that is ALL the time!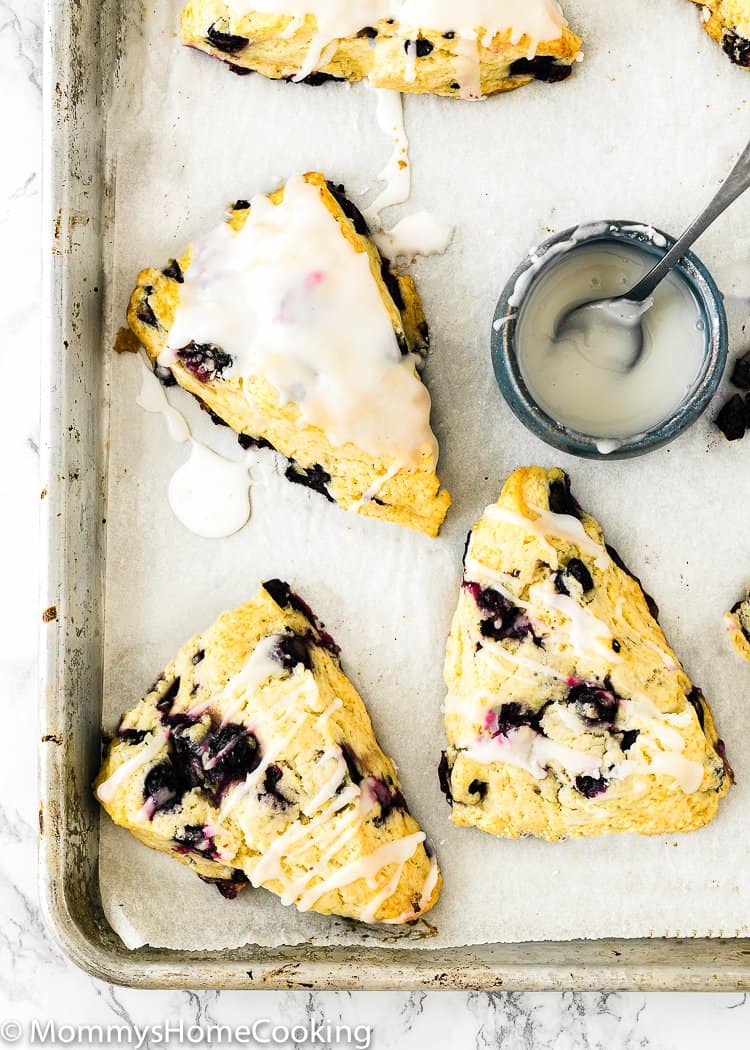 EASY EGGLESS BLUEBERRY SCONES INGREDIENTS
You'll need:
For the Scones:
All-purpose flour
Baking powder
Salt
Granulated sugar
Unsalted butter
Heavy cream
Pure vanilla extract
Lemon zest
Blueberries
For the Glaze:
Powdered sugar
Lemon Juice
Please check the recipe card at the bottom of the post for exact quantities and instructions (scroll down).
HOW TO MAKE EASY EGGLESS BLUEBERRY SCONES FROM SCRATCH
Mix the dry ingredients together. Use a big mixing bowl because you want lots of room for the mixing process.
Cut in the frozen butter. You can use your hands or a pastry cutter. Rub the butter into the flour mixture until it resembles coarse crumbs.
Whisk the wet ingredients together. Mix dry and wet ingredients with a fork until the dough comes together.
Toss in the blueberries and mix gently with your hands to combine.
Then pour out onto the counter.
Form into a disc and cut into wedges.
Refrigerate in the fridge for at least 15 minutes. In fact, you can even refrigerate overnight for a quick breakfast in the morning!
Brush with cold heavy cream.
Bake until golden brown.
Please check the recipe card at the bottom of the post for exact quantities and instructions (scroll down).
TIPS AND TRICKS TO MAKE PERFECT SCONES
Frozen butter: When you cut the frozen butter into the dry ingredients you will create crumbs. These crumbs are essential to have scones with a flaky center while keeping the edges crumbly and crisp.
Don't over-work scone dough: It's important to not overwork the dough and never roll it too thin, doing so will make the scone lose the flaky, moist, and delicious crumbly texture.
Refrigerate before baking: Keeping scone dough as cold as possible prevents over-spreading so don't skip this step, please.
LEMON GLAZE FOR SCONES
This lemon glaze is sweet and tangy! It's made with just two ingredients: confectioners' sugar and fresh lemon juice. It's the perfect pair for your blueberry scones.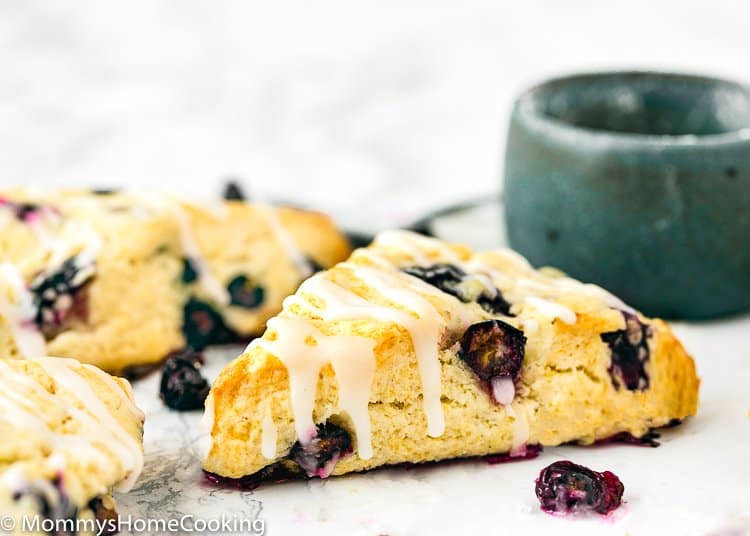 STORING EGGLESS SCONES
Leftover scones keep well at room temperature for 3 days or in the refrigerator for 5 days.
CAN I FREEZE SCONES?
Yes, you can! Just follow these simple steps:
Freeze scone dough wedges or rounds on a plate or baking sheet for 1 hour or until relatively frozen,
Place them in a single layer in a freezer-friendly bag or container. Freeze for up to a month.
Ready to eat them? Bake from frozen, adding a few minutes to the bake time in the recipe below. Or thaw overnight, then bake as directed.
MAKE AHEAD
You can prep the dough the night before and even shaping it out, then leaving it in the fridge overnight.
LOOKING FOR MORE EGGLESS SCONE RECIPES?

---
Love what you see? Subscribe to Mommy's Home Cooking so you'll never miss a recipe! Follow along on Instagram, Pinterest, Twitter, and Facebook for more fun!
When you make this recipe, be sure to snap a photo and hashtag it #MommysHomeCooking. I'd love to see what you cook!
* This post contains affiliate links, thank you for the support in keeping Mommy's Home Cooking up and running!