These easy to make, flaky, and buttery Eggless Chocolate Chip Scones are sure to become a family favorite treat. Perfect for breakfast, brunch or anytime!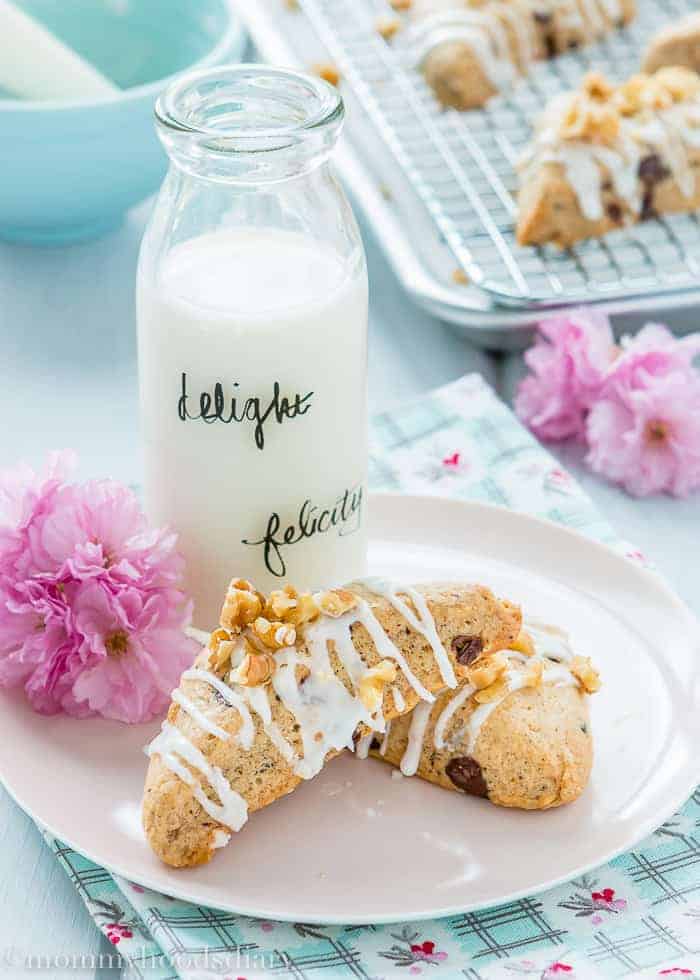 I felt in love with scones when I came to the United State more than 12 years ago. But I got to thinking…are scones cookies? Apparently no. Scones are more like a quick bread, usually a little sweet. Scones have way too much liquid (milk or heavy cream) in them compared to cookies, and have a lot more leavening. Some people say that they are more similar to a biscuit, but sweeter.
Ultimately… they are delicious!!! And perfect for a bunch or a tea party, or any occasion you can think of. Really.
Talking of brunch! Have you noticed that Mother's Day it's fast approaching? I just realized it myself, yesterday when I was reading the newsletter from my kid's school.  For me, this celebration is a little bittersweet, since I love all the extra pampering my husband and kids give me, but I also feel nostalgic because my mom is far away. I know many of you can relate, right? But this is year is going to be extra special since my oldest daughter, Andrea is pregnant!! Yes, I'm going to be an abuelita (grandma), so double reason to celebrate!
In my opinion, the mission of Mother's Day is simple: shower the most important woman in your life (your mother and/or the mother of your children) with surprises she'll never forget. In my book that translates to:
Sleep in.
A long, lazy breakfast in bed.
No eating out that day for me, please. Crowded restaurants are not my thing. A homemade simple meal (not cooked by me) would be fabulous.
Netflix Marathon.
See? Nothing complicated. My husband and my oldest daughter are the first people to read all my post so I know they'll get my not-so-very-subliminal message LOL.
These decadent Eggless Chocolate Chips Scones are unbelievably easy to make. It's practically impossible to mess up. They are rich, flakey and buttery. The glaze is optional– trust me, these scones are amazingly tasty.
Serve these scones warm from the oven with a giant mug of steamy coffee, tea, or hot chocolate. Enjoy!
Ingredients
2

cups

all-purpose flour

1/4

cup

light brown sugar

1

tablespoon

+ 1 teaspoon baking powder

1/2

teaspoon

salt

1/2

teaspoon

ground cinnamon

1/4

teaspoon

fresh ground nutmeg

3

oz

semi-sweet chocolate

chopped (chunks or chips – I used chunks)

10

tablespoons

unsalted butter

cold and diced

1/2

cup

heavy cream

plus more for brushing

1/4

cup

Coffee Mate natural bliss® Sweet Cream

1

teaspoon

pure vanilla extract

1/2

cup

walnuts

chopped (optinal)

Glaze:

1

cup

powdered sugar

2

tablespoons

– 3 Coffee Mate natural bliss® Vanilla
Instructions
In a large bowl whisk together the flour, sugar, baking powder, salt, cinnamon, and nutmeg.

Add the cold diced butter and using your fingertips, rub the butter into the flour mixture until it resembles coarse crumbs. Toss in the chocolate and mix gently with your hands to combine.

In a separate small bowl whisk with a fork the heavy cream, Coffee Mate and vanilla until combined.

Create a small well in the center of the flour mixture. Pour the cream mixture into the well, and stir with a fork until until the dough comes together.

Turn the dough out onto a floured surface. Form into a disk, cover with plastic wrap and refrigerate for 30 minutes. Roll dough into a square, about 1/2 to 3/4 of an inch thick. Cut in half vertically, then horizontally to form 4 equal size squares. Then cut each little square diagonally to create smaller triangles. Transfer to a parchment lined cookie sheet and pop your tray into your fridge for 15 minutes.

Preheat oven to 350º F.

Brush the scones with heavy cream and bake for about 18 to 20 minutes or until risen and golden brown. Remove from oven and allow to cool down completely on a wire rack.

Prepare the vanilla glaze: Mix the ingredients in a small bowl until reach the desired consistency and smooth.

Drizzle glaze over scones, sprinkle with chopped walnuts, if using, and serve.
Notes
Avoid over working the dough or you will end up with hard scones.