This is the best Eggless Pumpkin Bread ever! Moist and tender with the perfect combination of pumpkin and spice! Made in no time.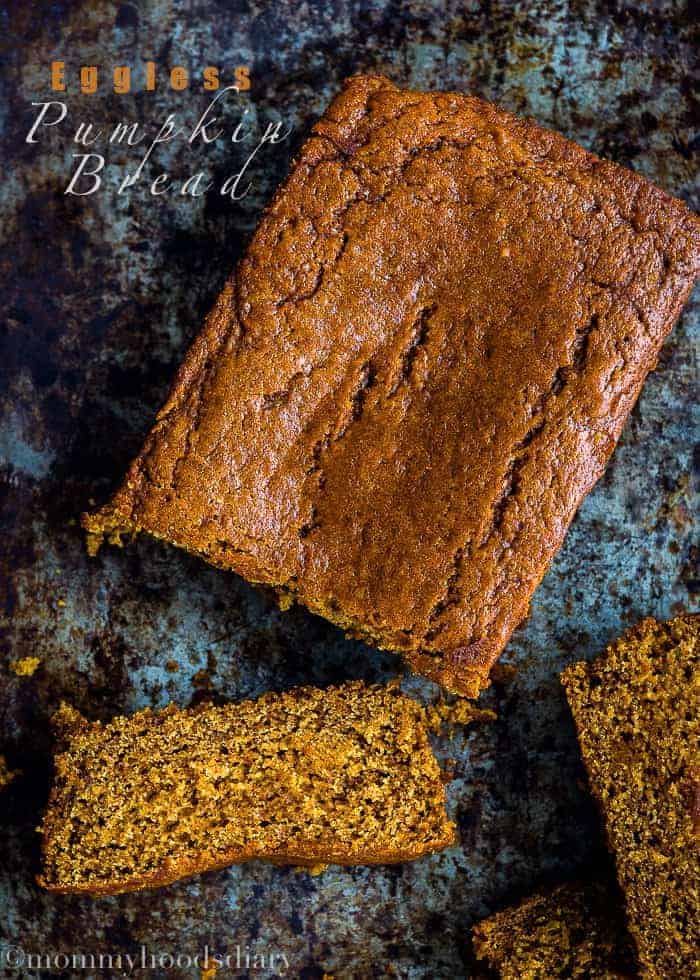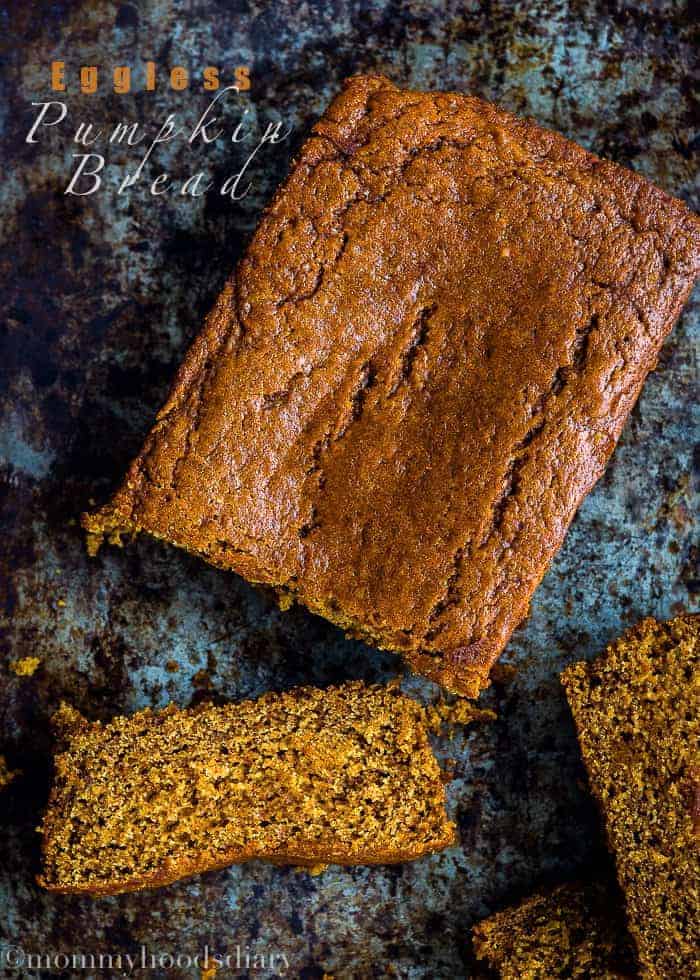 Happy Friday!!
I am so excited for today's recipe. I have been working on this Eggless Pumpkin Bread quite a bit. This has been one of my longest recipes to create. I tested the recipe tons of times until it finally came out the way I want it to.
My biggest satisfaction it's not how the pumpkin bread turned out, but the fact that my kids loved it. They are really addicted to this bread, and to be honest, it's the only way they eat pumpkin.
Baking without eggs can be frustrating at time. You cannot imagine how many fails I have had; flat pancakes, hard waffles, sunken cakes, etc. Not all eggs substitutes work well in all recipes. I mean. What can be great for cakes and cupcakes, probably won't work for cookies, or pancakes, or waffles. Anyway. It has been a long learning process, but it has been so worth it.
Without further ado… meet my Eggless Pumpkin Bread!!! Woot Woot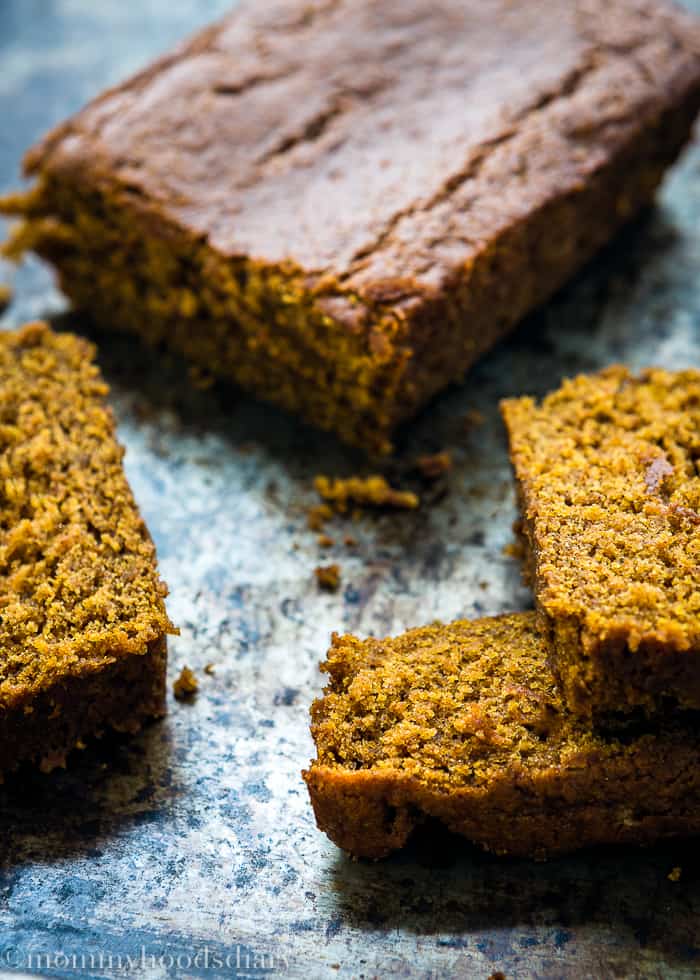 This Eggless Pumpkin Bread is everything you ever wanted! Each slice is perfectly moist, sweet, and tender. It's classic…it's easy to make… it bakes perfectly every time… and it's absolutely delicious!!
I also have made mini muffins for my daughter school with the same batter. If you want to try just spray a mini-muffin pan really generously with baking spray and fill the cups 2/3 of the way full. Bake for 20 -22 minutes, or until tops are lightly golden and a toothpick inserted in the center should come out clean.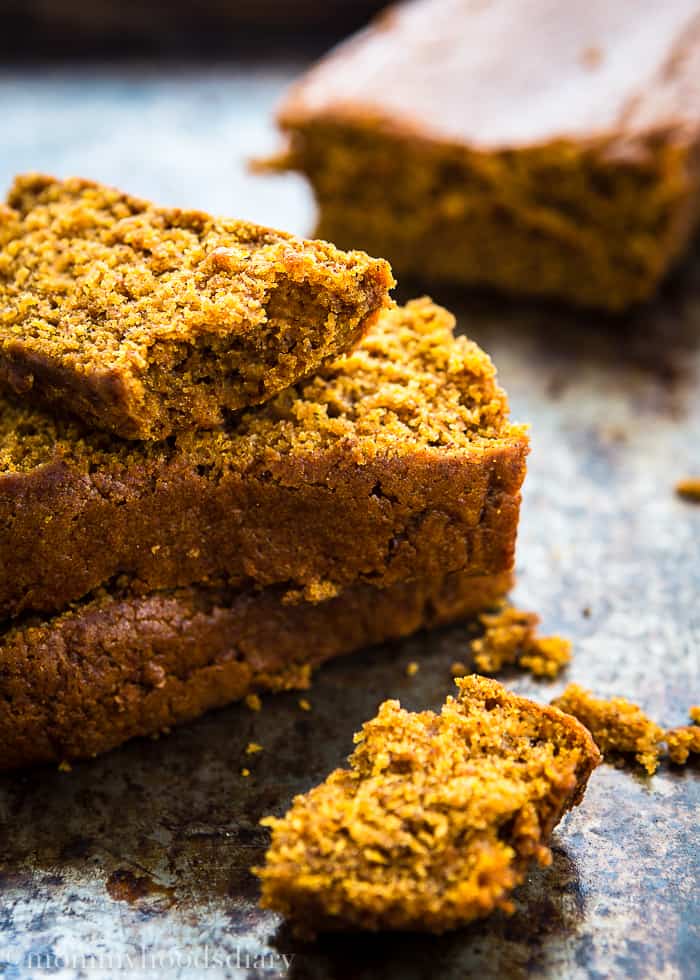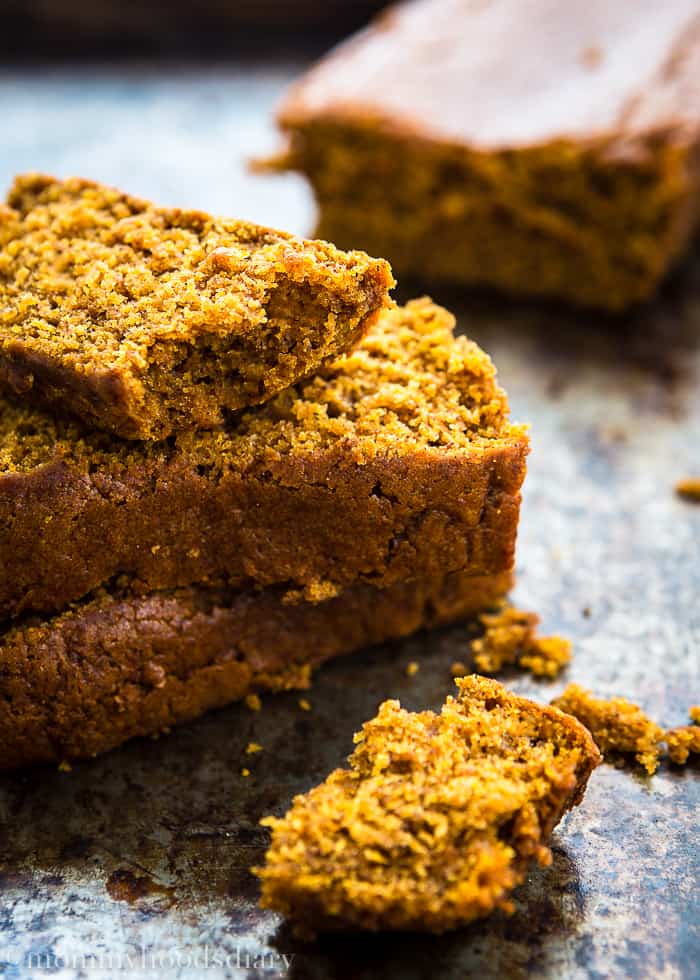 Love what you see? Subscribe to Mommyhood's Diary so you'll never miss a recipe! Follow along on Instagram, Pinterest, Google+, Twitter, and Facebook for more fun!
¡Buen provecho!
Eggless Pumpkin Bread
Ingredients
11/2

cups

self-rising flour

1

teaspoon

baking soda

1/2

teaspoon

salt

1/4

teaspoon

baking powder

2

teaspoons

pumpkin pie spice

6

tablespoons

unsalted butter

softened

11/2

cups

brown sugar

5

tablespoons

aguafaba

1

cup

unsweetened pumpkin puree

1

teaspoon

vanilla extract

1/4

cup

buttermilk
Instructions
Preheat the oven to 350° F. Line a 9-inch loaf pan with parchment paper, then grease the parchment paper with cooking spray.

In a large bowl, whisk together the flour, baking soda, salt, baking powder and pumpkin pie spice. Set aside.

In a separate medium bowl, whisk together the melted butter, brown sugar, aguafaba, pumpkin puree, vanilla, and buttermilk.

Add the wet ingredients to the dry ingredients and mix just until combined. Pour the batter into the prepared baking pan loaf.

Bake for about 50 -55 minutes, or until a toothpick inserted in the center comes out clean. Remove the bread from the oven and allow it to cool in the pan for 10 minutes. Using the parchment paper overhang, lift the loaf out of the pan and put it on to a cooling wired rack to cool completely.

Slice and serve.