Disclosure: this is a compensated campaign in collaboration with Ragú® and Latina Bloggers Connect.
A perfectly guiltless way to enjoy all the flavors and satisfaction of Eggplant Parmesan without frying! Easy, delicious, and ready in just 30 minutes.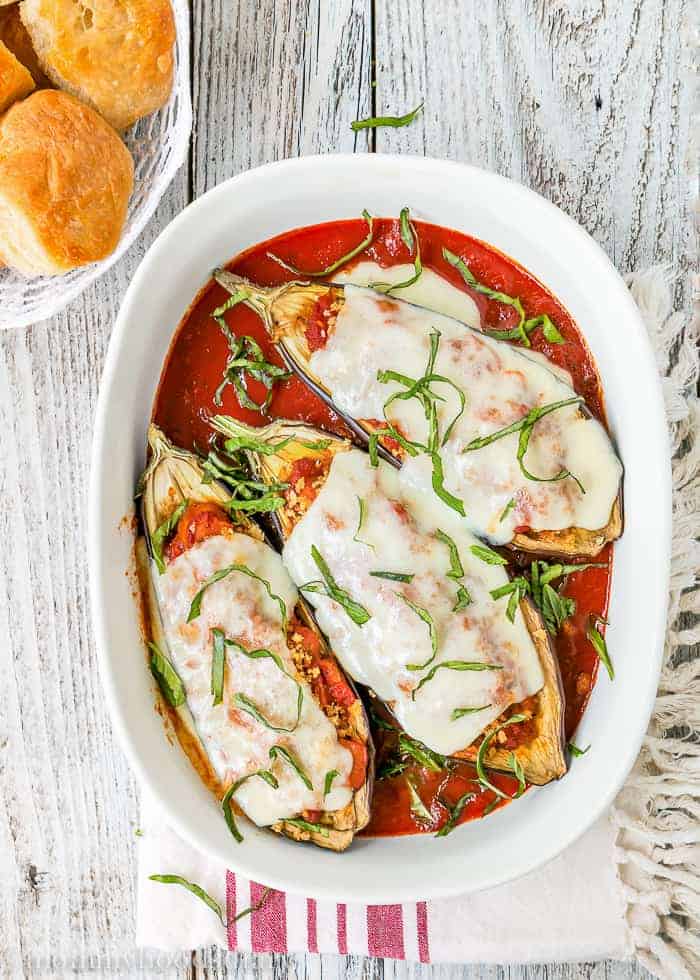 Eggplant is the forgotten vegetable, at least in my kitchen. I never buy it, but a few days ago, I was in the market and the eggplants looked so pretty that I couldn't resist. I think eggplant is really starting to grow on me. And I'm telling you; once it's roasted it takes on a whole new life.
Plus, eggplant sounds like the perfect complement to join Ragú® in making every day mealtime magical.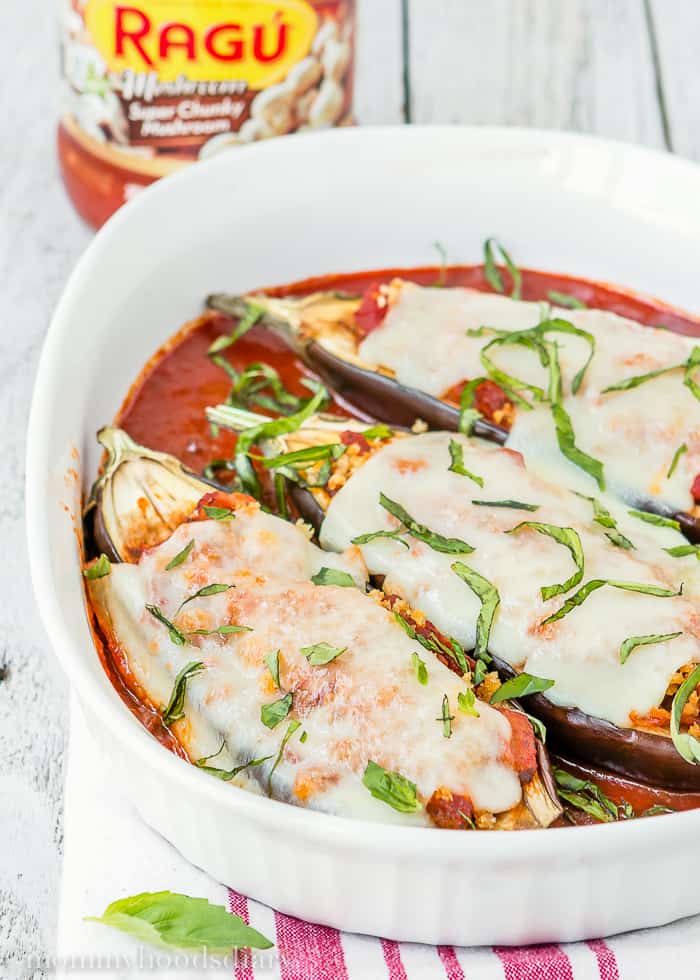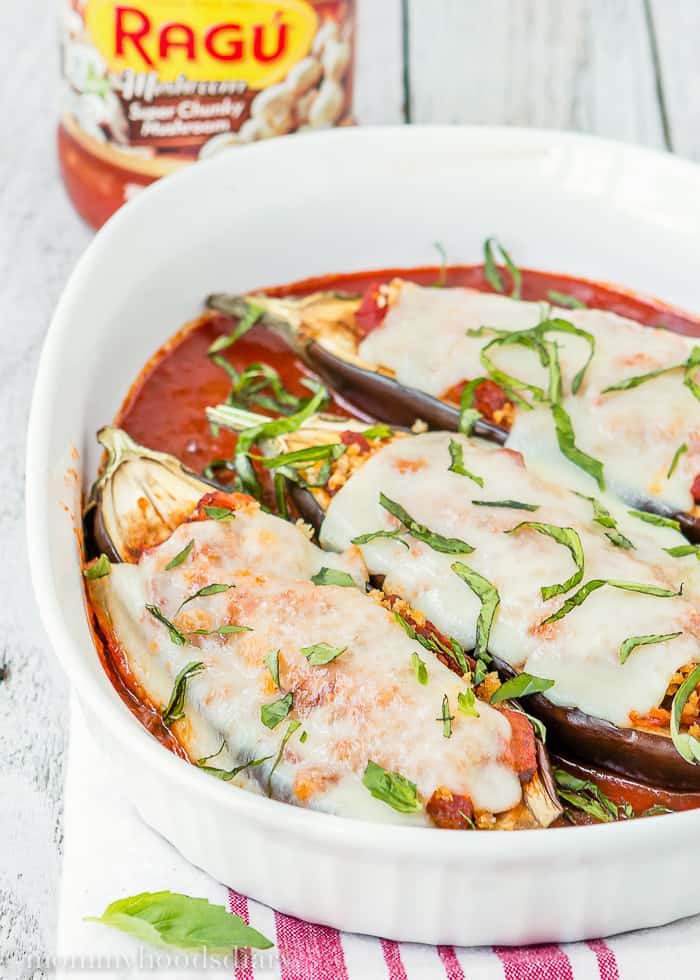 If you love eggplant Parmesan these are going to knock your socks off! Using Ragú® Sauce in this recipe saved me a lot of time and effort, time that I can use to enjoy my family. Ragú® is recognizing and celebrating everything that makes family mealtime #Saucesome.
And this silly guy makes our family mealtime #Saucesome!
This might be my favorite way to eat eggplant. Might be. I am discovering so many delicious eggplant recipes that when I think about it, it's hard to decide. I think I will need to try them all and then decide. I'll sacrifice.
Okay… back to the recipe!
These eggplant parmesan boats are very versatile. You can add some kind of protein like chicken, sausage, ground meat, or quinoa if you want, or add more veggies as well. I preferred to keep it meatless and they turned out amazing.
In this recipe I used the pulp that gets scooped out and goes right back into the stuffing so nothing gets wasted.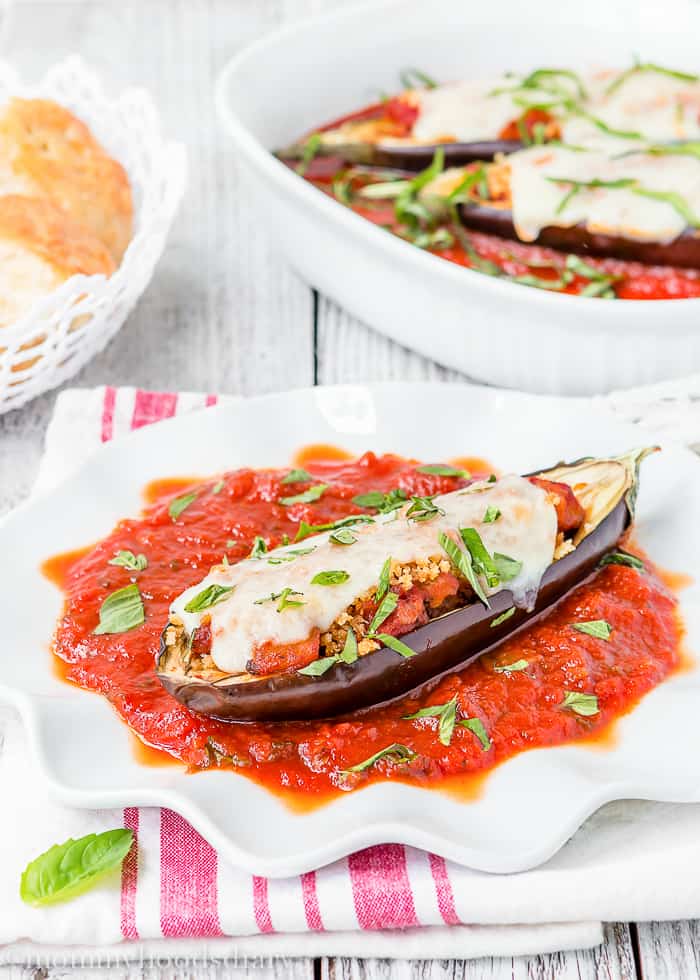 These tasty eggplant Parmesan boats are perfect if you are looking to decrease your meat consumption! One boat is super filling; you can serve it with a side salad for a complete and delicious meatless meal.

Ingredients
2

medium eggplants

3

tablespoons

olive oil

1

cup

small onion

diced (about 1/2 )

1

clove

garlic

minced

3

cups

Ragú® Super Chunky Mushroom Sauce

or your favorite Ragú® Sauce

1

teaspoon

dried oregano

Salt and black pepper to taste

1/4

cup

plain panko

2

tablespoons

Parmesan cheese

grated

1

cup

mozzarella cheese

shredded or sliced

Basil for garnish
Instructions
Preheat oven to 400º F. Cover a baking sheet with parchment paper. Set aside.

Cut the eggplant in half lengthwise and scoop out the center, leaving about 1/2 inch around the sides so that it holds its shape when baked. Reserve the scooped eggplant.

Brush the inside of the eggplant shells with 1 tablespoon of oil and roast in the oven, with the inside facing up for 10-15 minutes, or until tender. Set aside.

Heat 2 tablespoon of oil in a skillet over medium heat. Sauté onion for about 3 minutes, or until fragrant. Add garlic and sauté for 1 minute. Add the chopped reserved eggplant and cook until tender, about 5-8 minutes. Add 1 1/2 cup of the marinara sauce, season with oregano, salt and pepper to taste and cook to heat, about 5 minutes.

Spread the remaining marinara sauce over the bottom of a baking dish.

Mix panko and Parmesan in a small bowl.

Place the eggplant shells in a baking dish; fill them with the sauce, top with panko mixture and mozzarella. Bake in the preheated 400º F oven for 10-15 minutes, or until the cheese has melted and the sauce is bubbling.

Garnish with fresh basil and serve.
Notes
I didn't add any salt or pepper since the Ragú® Sauce is well seasoned.
For more recipes ideas visit Ragú Facebook page or Pinterest.com/ragusauce, or check out Ragú® on Twitter @RaguSauce and #Saucesome. Also visit www.RaguSweeps.com for a chance to win a variety of #Saucesome prizes.
This is a compensated campaign in collaboration with Ragú® and Latina Bloggers Connect. However, all opinions expressed are my own.