Double Chocolate Chunk Walnut Cookies – These skinny pieces of heaven are supremely chocolatey and dangerously addictive.
Need excuses to eat cookies?
Let's be honest… I don't! It's no secret I have a serious sweet tooth. But in case you do today I'm going to give you the perfect excuse.
Skinny Double Chocolate Chunk Walnut Cookies from The Skinnytaste Cookbook!
These cookies are amazing! They're lower in sugar and oil and according to Gina's book, they are only 76 calories per cookie. Do I need to say anything else?
I crave cookies all of the time and these cookies, for sure, cured my cravings without all of the guilt. Although, I never feel guilty for eating cookies hahaha.
Chocolate on more chocolate. Soft baked, a little chewy and not overly sweet.
At home, everyone loved them; even my picky eater! If he knew that there is some avocado in there. Yes, you read well. Gina used avocado in place of butter – and you can't taste it at all. These cookies are perfect for your upcoming family get together, holiday party, or as a special edible gift to the chocolate lover in your life!
I was very excited when I received a copy of this cookbook. I have been following Gina for quite some time and I know that this book is a dream come true for her. When you open the book you can see that she worked very hard to deliver a very high-quality and unique product. The images are beautiful and make you want to prepare all the recipes. It actually made me hungry and this never had happened before with a low calories cookbook.
The Skinnytaste Cookbook is full with delicious recipes, 150 to be exact! Can you see all the green sticky notes on my book? Well, those are all the recipes my oldest daughter, Andrea, want me to prepare for her. I'm going to be quite busy because she marked almost every recipe in the book.
This cookbook is the best holiday gift idea. Because. You know what happens in January, right? Everybody wants to drop a few pounds. Gina's fabulous cookbook is a blessing for those of us watching our weight, while still wanting to enjoy delicious and flavorful dishes!
You can buy The Skinnytaste Cookbook on Amazon, or at most bookstores nationwide.
Don't miss the giveaway at the end of the post!
Double Chocolate Chunk Walnut Cookies
Ingredients
1/2

cup

white whole wheat unbleached flour

1/3

cup

all-purpose flour

1/3

cup

unsweetened cocoa power

1/4

teaspoon

baking soda

1/8

teaspoon

kosher salt

1/2

cup

raw sugar

1/3

cup

unpacked dark brown sugar

1/4

cup

mashed avocado

1

tablespoon

unsweetened applesauce

1

large egg white

(for eggless version see notes bellow)

1

teaspoon

vanilla extract

1/3

cup

semisweet chocolate chunks

1/2

cup

finely chopped walnuts
Instructions
Preheat oven to 350º F. Line 2 cookies baking sheets with parchment paper or silicone mats.

In a bowl stir together flours, cocoa, baking soda, and salt. Reserve.

In another large bowl mix together both sugars, avocado, applesauce, egg white, and vanilla. Mix until the sugars dissolved, about 3 minutes. Gradually fold in flour mixture with a spatula. Stir chocolate chips and walnuts, and stir to distribute evenly. Cover with a plastic wrap and refrigerate for 15 minutes.

Drop dough by tablespoonfuls onto prepared baking sheets and bake about 10 - 12 minutes. Cool on a baking rack.
Due to my daughter egg allergy I slightly modified the original recipe. I substituted the egg white for 1/2 cup of applesauce.
This recipe have been rewritten in my own words from The Skinnytaste Cookbook.
Did you make this recipe? I want to see your yummy photos!
Tag @mommyshomecooking on Instagram and hashtag it #mommyshomecooking or Join my Private Facebook Group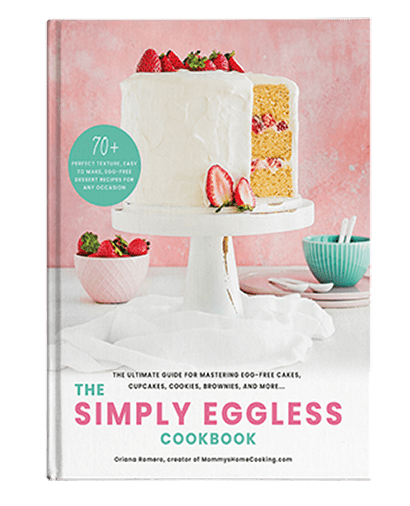 The Ultimate Guide to Eggless Baking!
Includes more than 70 easy-to-make recipes along with full-color photos, detailed instructions, and helpful tips for spectacular results.
Order Now!