These Eggless Chocolate Crinkle Cookies are moist and fudgy on the inside, and slightly crisp on the outside. Nothing shouts out Happy Holidays like a great plate of chocolatey cookies. Easy to make, even easier to eat!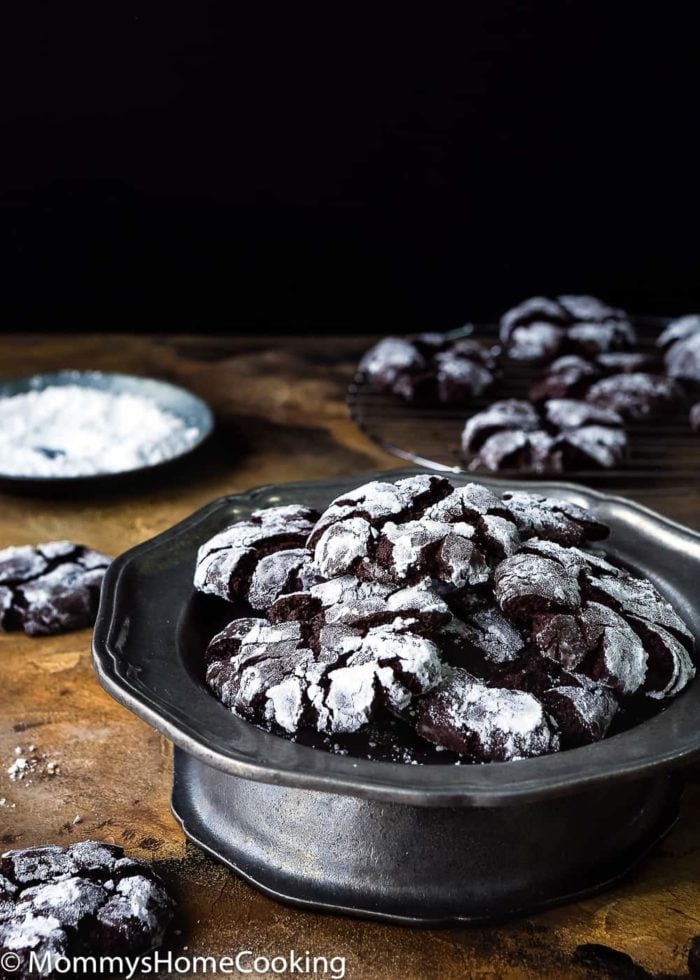 Five more days until Christmas!!
These Eggless Chocolate Crinkle Cookies are in honor of Santa. Of course, sharing is highly recommended so we'll make enough for Mrs. Claus and all the elves too.
My little ones and I have been baking a lot of cookies this season!! As I mentioned before, we love to bake cookies. Plus, we're cookie-eaters by nature, so the holidays are a great excuse to try all kinds of new cookies recipes. When the task involves rolling, dusting and/or sprinkles my kids are the first to show up.
I have been seeing these chocolate crinkle cookies everywhere, so I was eager to try and tweak these cookies to make them safe for Victoria. When I say safe I mean eggless. I couldn't have been happier with the outcome. They are moist and fudgy on the inside, and slightly crisp on the outside. Total perfection!! In fact, these cookies are so good that I've made them quite a few times this month.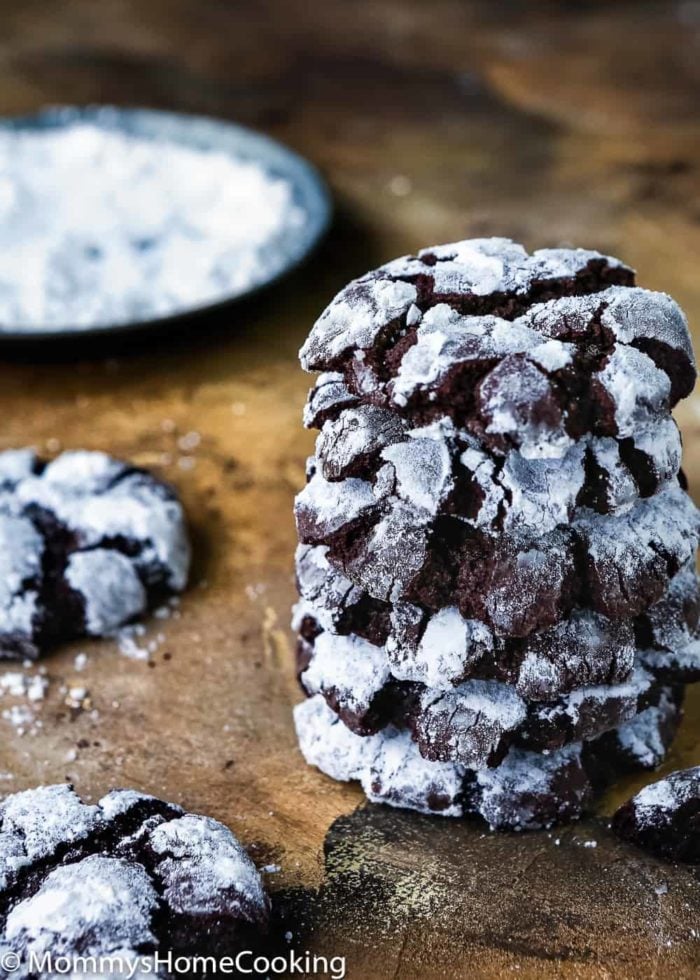 Best way to substitute eggs in a cookie recipe.
I do ALL my baking without eggs due to my daughter egg allergy. I have found out that what works for one recipe might not be so good for other. For example, I don't use egg replacers or flax seeds in my cookie recipes as the final texture leaves much to be desired. When it comes to cookies recipes the best way to substitute eggs, in my experience, is what I called "fake egg".
1 "Fake egg" = 2 tablespoons water + 2 teaspoons baking powder + 1 teaspoon neutral taste oil (such vegetable, canola or grapeseed).
Whish all the ingredients together and use this mixture to replace 1 egg.
For my cookie baking marathon, I have been using Reynolds Cookie Baking Sheets. They're so convenient and really make my life easier. Made from parchment paper, Reynolds® Cookie Baking Sheets are a natural, high-density paper with a non-stick coating. Each 12" x 16" sheet is pre-cut to the size of a standard cookie sheet and packed to lay flat right out of the box, so it won't curl or roll.  Believe me … you need this in your life!
LOOKING FOR MORE EGGLESS COOKIES?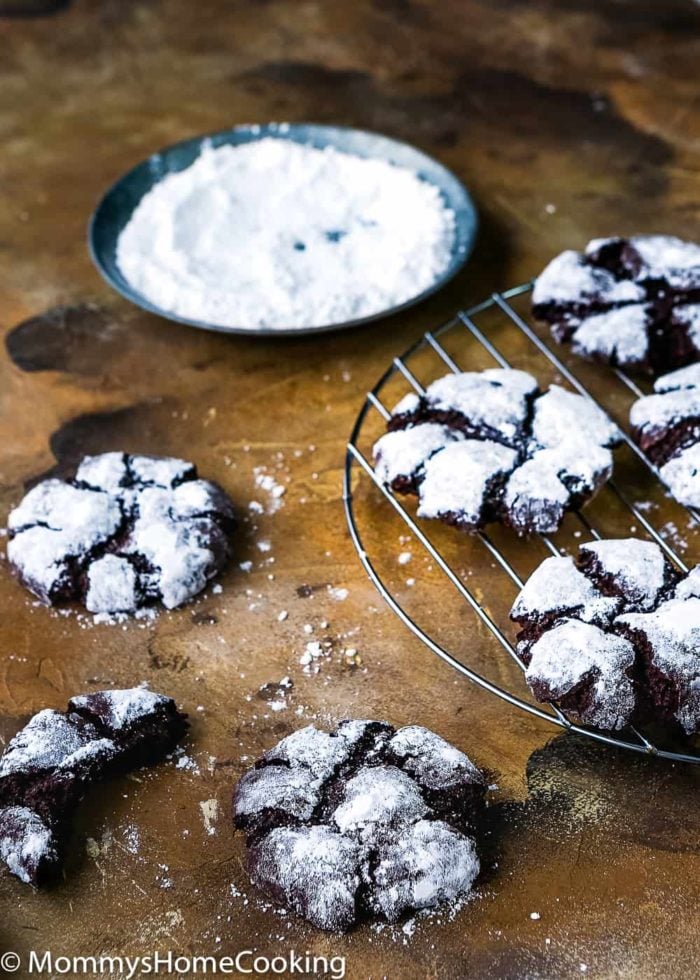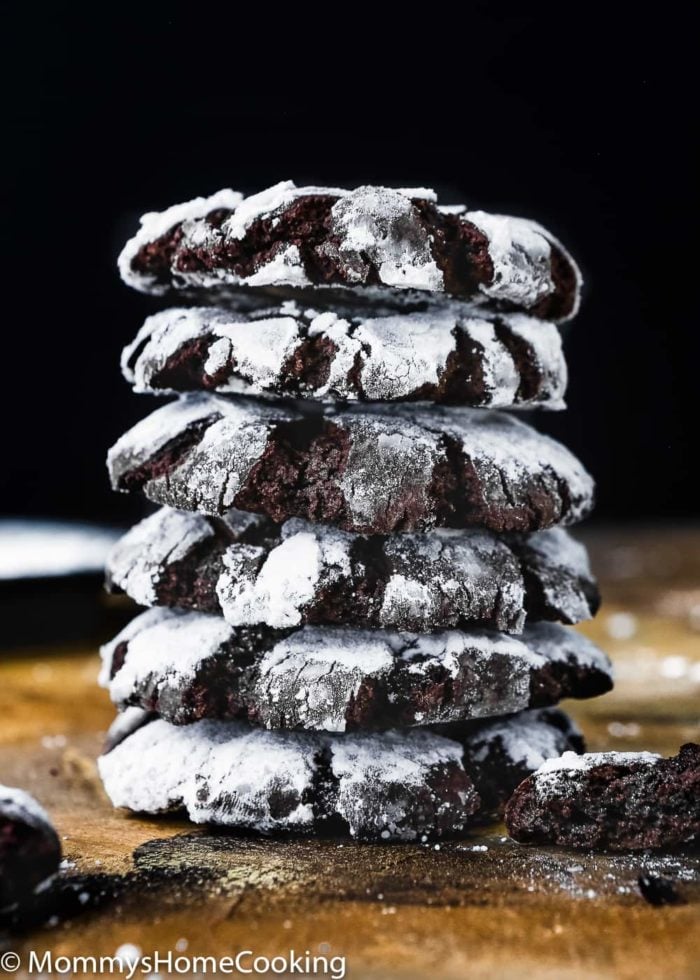 Bring these goodies to a cookie exchange or put them out on any holiday cookie tray. You can even wrap them up as a little edible gift for a special person in your life. Either way that you decide to share them … these Eggless Chocolate Crinkle Cookies will be the BIGGEST hit!!
This recipe needs to be added to your baking repertoire.
Happy Baking!

---
Love what you see? Subscribe to Mommy's Home Cooking so you'll never miss a recipe! Follow along on Instagram, Pinterest, Google+, Twitter, and Facebook for more fun! 
If you make this recipe, be sure to snap a photo and hashtag it #MommysHomeCooking. I'd love to see what you cook!
Disclosure: This is a sponsored recipe as a Reynolds Kitchen ambassador. However, all opinions expressed are my own as always. Thanks for supporting my partners which allow me to create new and special content like this for you.
* This post contains affiliate links, thank you for the support in keeping Mommy's Home Cooking up and running!