These are THE BEST Eggless Chocolate Chip Cookies Ever!! With a slightly crispy outside and wonderfully soft and chewy inside, these cookies are heaven for any cookie lover.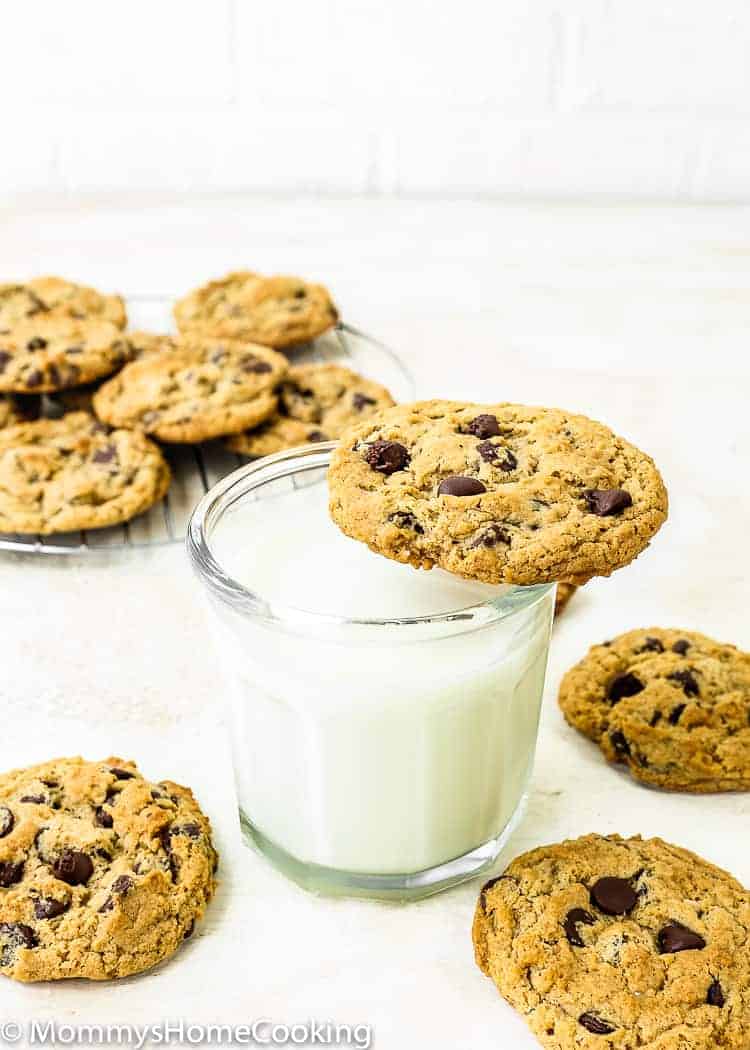 Although I love to bake so much, it seems I don't bake cookies often enough. But this week I make THE BEST Eggless Chocolate Chip Cookies!
Okay… I'm a little biased.
But seriously.
These cookies are delicious, chocolatey and perfect. with a Slightly crispy outside and wonderfully soft and chewy inside, these cookies are heaven for any cookie lover.
There's nothing better than the smell of freshly-baked chocolate chip cookies coming out of the oven so make a big batch, share with friends, or you just can keep some in the freezer for emergencies. Chocolate chip emergencies around here are a real thing.
They are beautifully uneven and cracked on top. Totally Irresistible. Look 👀 ↓↓↓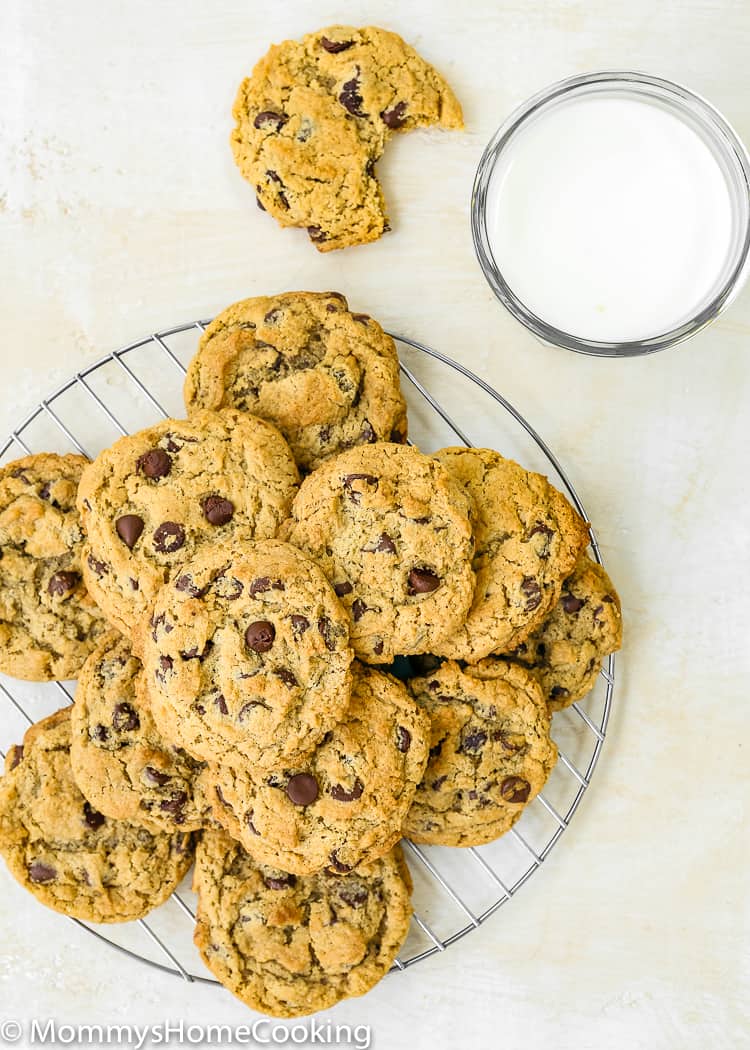 Just like every baker, cookie maker, and sweet tooth owner I have been on a quest to discover the best ever chocolate chip cookie.
In my case in particular, with an extra challenge. NO EGGS.
I tried several variations: chia egg, plant egg, apple sauce, etc…
But this Eggless Chocolate Chip Cookies recipe hands down was/is THE BEST.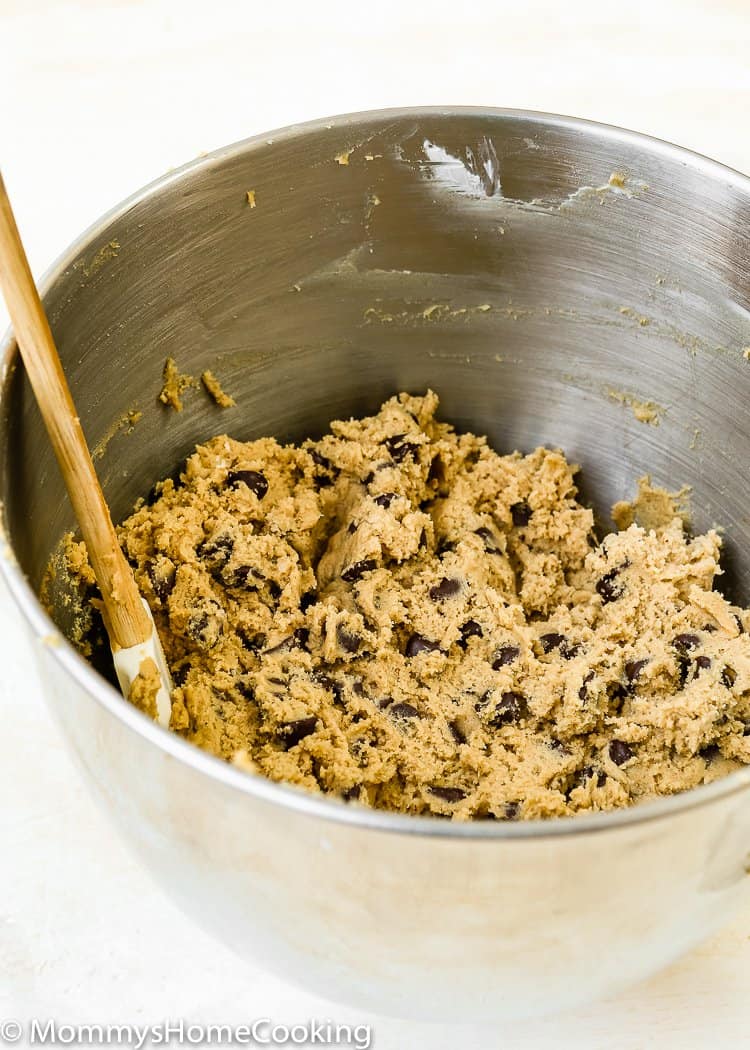 A FEW TIPS:
Make sure the butter and cream cheese are at (cool) room temperature, but not too soft.
Chill the dough for 10 – 15 minutes before baking, this gives the dough a chance to firm up a little and allows them to bake much better.
For evenly sized cookies (better for baking) use a small spring-loaded ice cream scoop to spoon out the dough.
Bake the cookies until they are JUST golden around the outside. The cookies might still look a little raw in the center, but once they cool, they will be perfect. Let the cookies cool on the baking sheets for just a few minutes, around 2. If you leave the cookies on the baking sheets too long, they will continue cooking and they will be hard.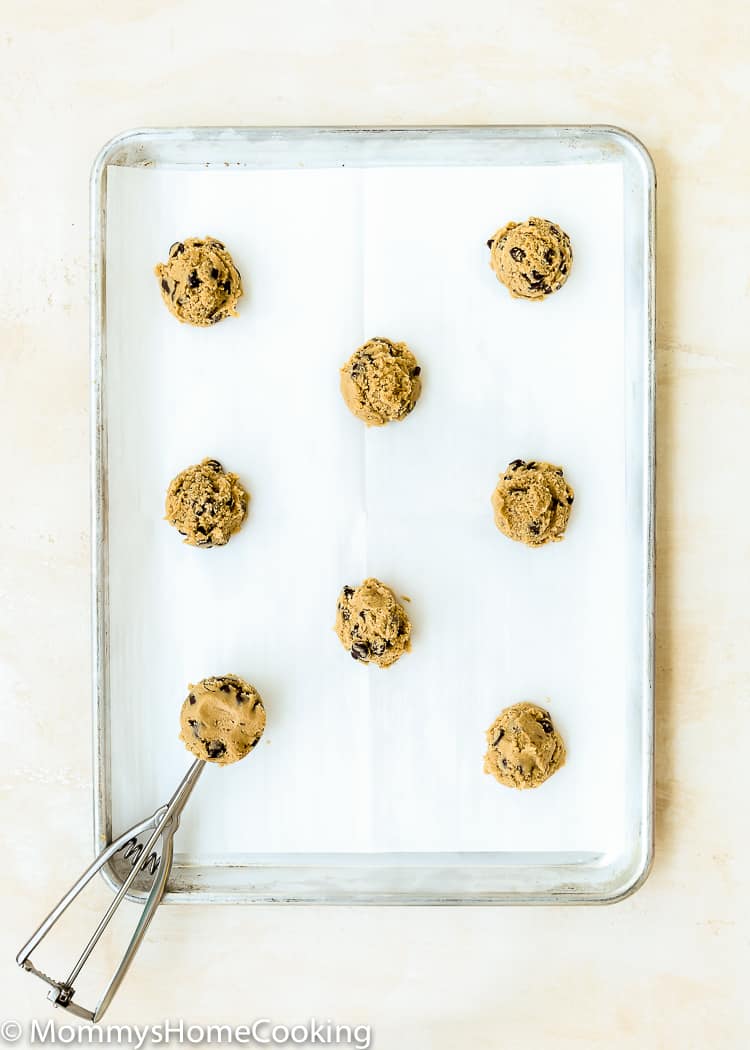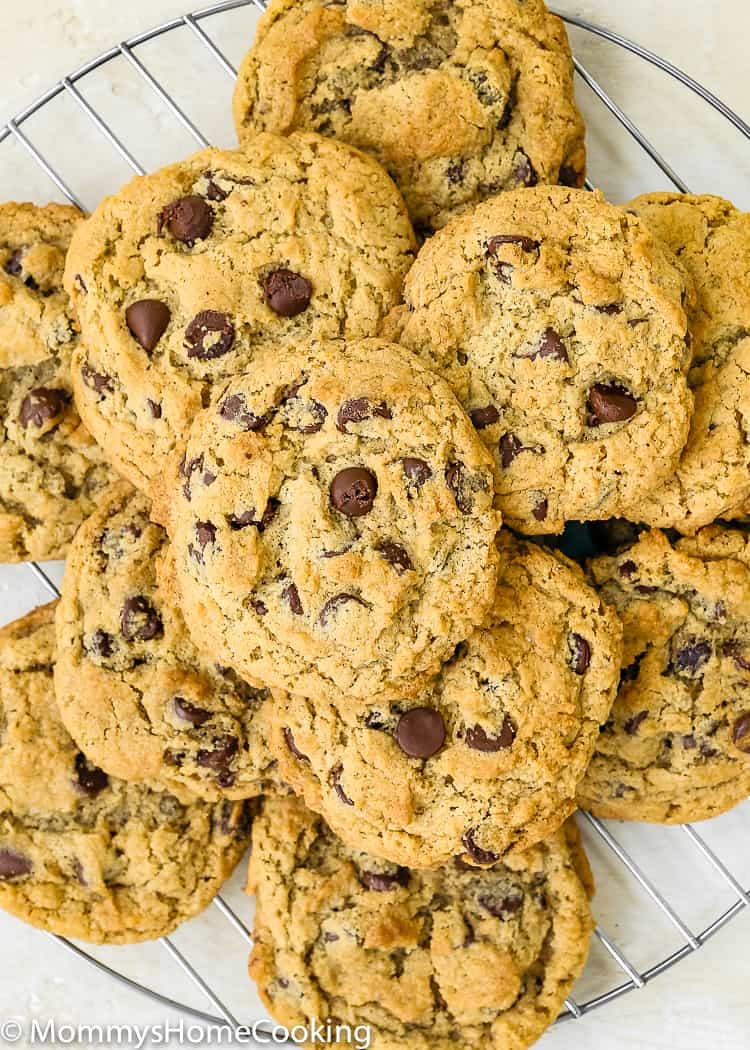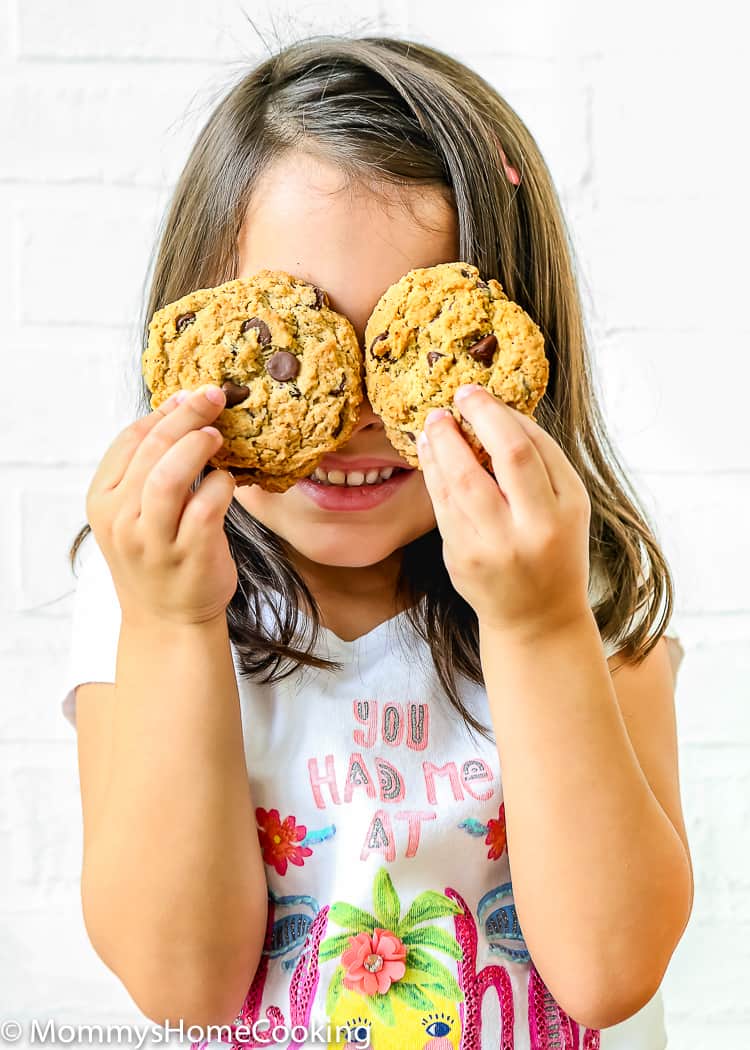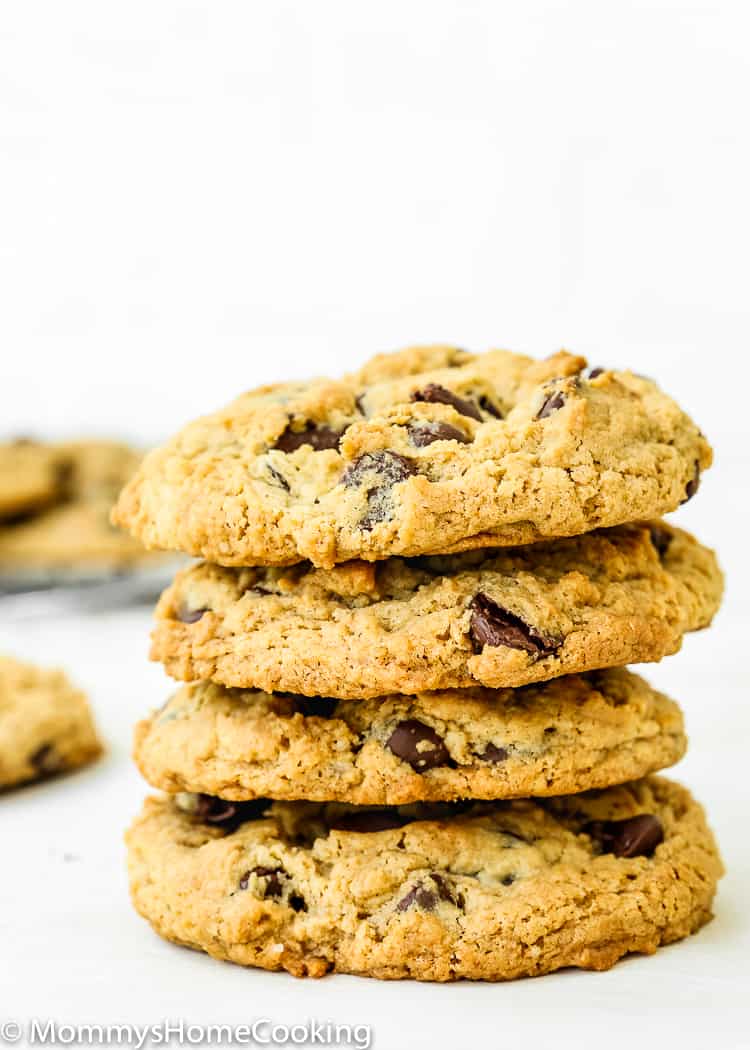 These Eggless Chocolate Chip Cookies are the bomb while fresh and warm, but they are still irresistible later.
We certainly enjoyed this recipe, and I hope you do too!
Happy Baking!!!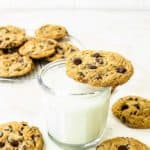 Eggless Chocolate Chips Cookies
Ingredients
2 1/4

cups

all-purpose flour

1

teaspoon

baking soda

2

teaspoons

baking powder

1

teaspoon

kosher salt

1

cup

unsalted butter

softened (2 sticks)

3/4

cup

granulated sugar

3/4

cup

packed brown sugar

1

teaspoon

vanilla extract

6

oz

cream cheese

softened

2

cups

semi-sweet chocolate morsels
Instructions
Preheat oven to 375° F. Line 2 large baking sheets with parchment paper or silicone baking mats.

Combine flour, baking soda, baking powder and salt in a bowl. Set aside.

Beat butter, granulated sugar, brown sugar and vanilla extract in large mixer bowl over medium speed until smooth and creamy. Scrape down the sides and bottom of the bowl as needed. Add cream cheese; mix until well. Reduce speed to low and gradually beat in flour mixture until combined. Stir in morsels until evenly distributed.

Drop by rounded tablespoon onto ungreased baking sheets.

Bake for 10-11 minutes, until barely golden brown around the edges. Cool on baking sheets for 2 minutes; remove to wire racks to cool completely.
Recipe Notes
Store cookies covered at room temperature for up to 1 week.
You can make the cookie dough and chill it in the refrigerator for up to 1 week. Allow coming to room temperature then continue with step 4.
Baked cookies freeze well for up to 8 weeks. Unbaked cookie dough freezes well for up to 8 weeks.

---
Love what you see? Subscribe to Mommy's Home Cooking so you'll never miss a recipe! Follow along on Instagram, Pinterest, Google+, Twitter, and Facebook for more fun! 
📱When you make this recipe, be sure to snap a photo and hashtag it #MommysHomeCooking. I'd love to see what you cook!

Eggless Banana Chocolate Chips Muffins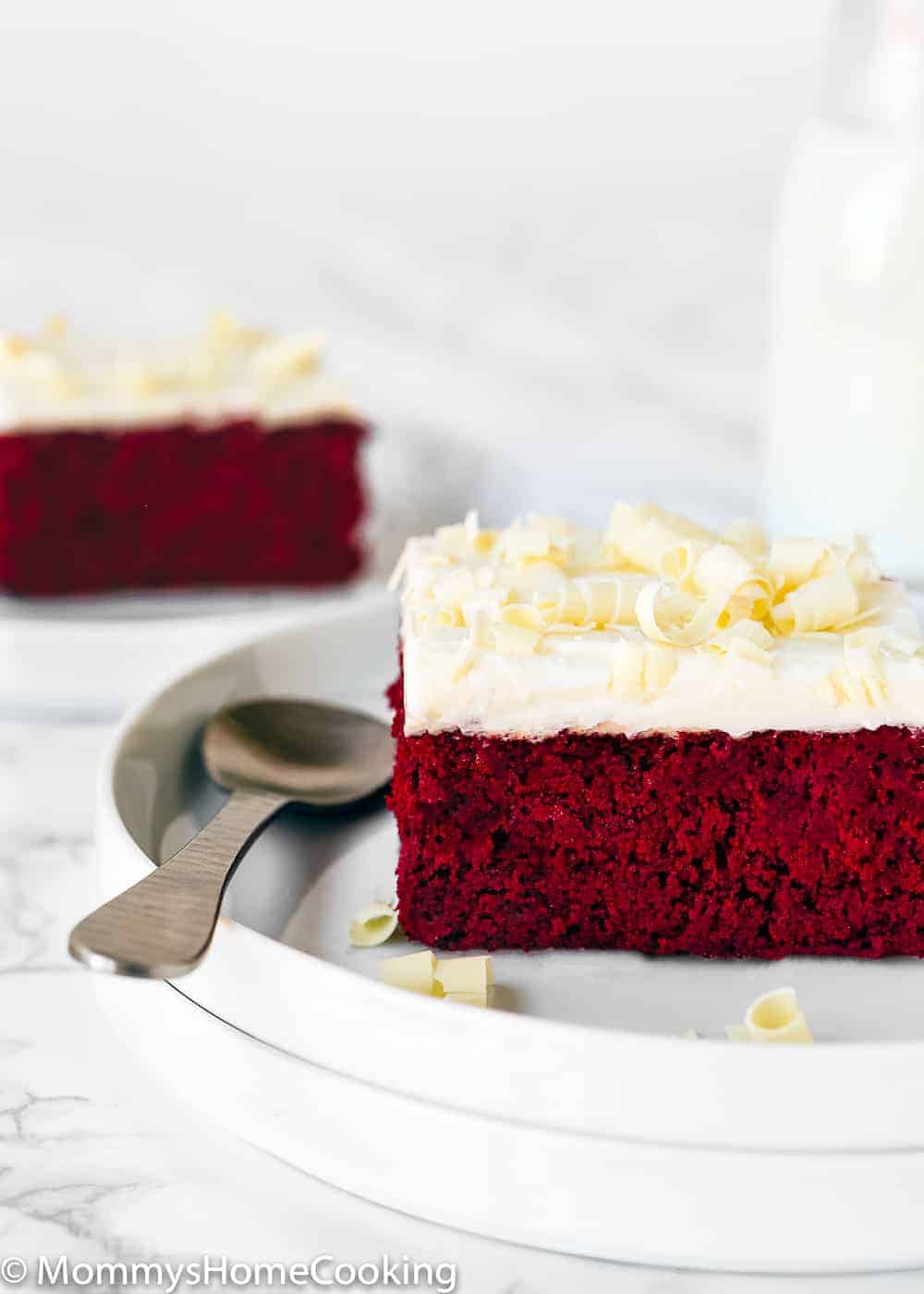 Eggless Chocolate Crinkle Cookies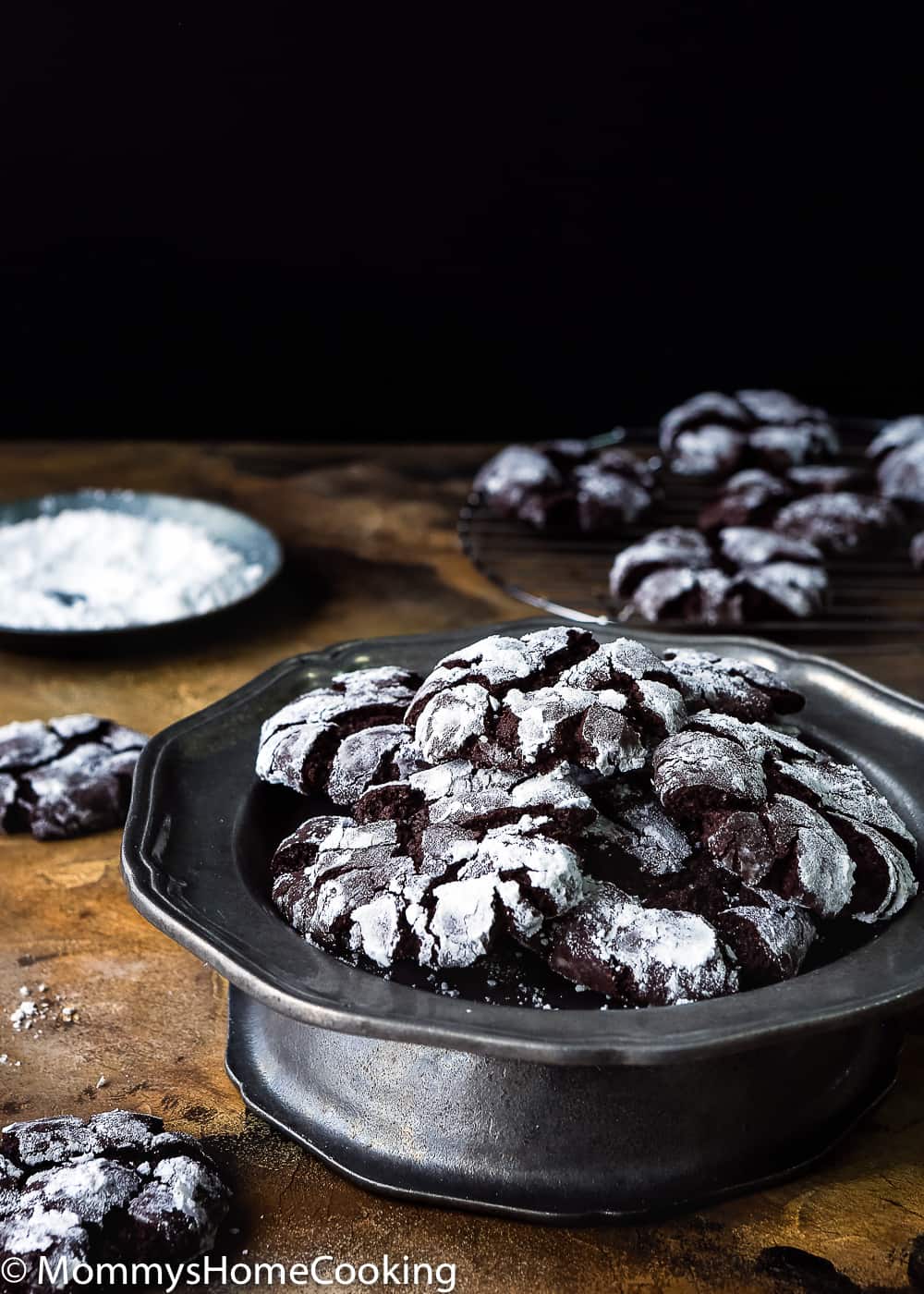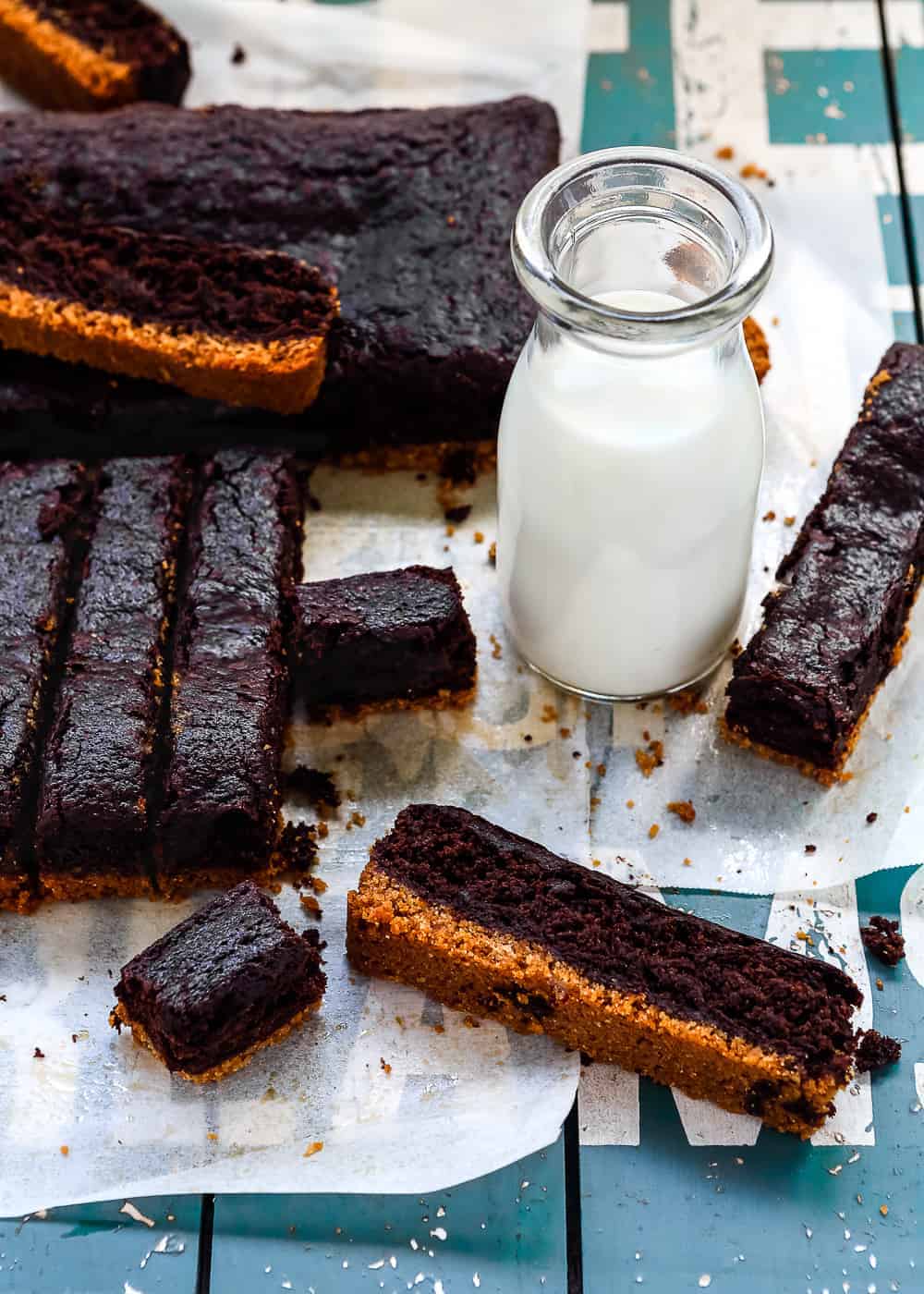 * This post contains affiliate links, thank you for the support in keeping Mommy's Home Cooking up and running!