These Eggless White Chocolate Chip Cookies are ultra-chewy, perfectly sweet, buttery rich, and incredibly delicious! They're sure to satisfy that cookie craving.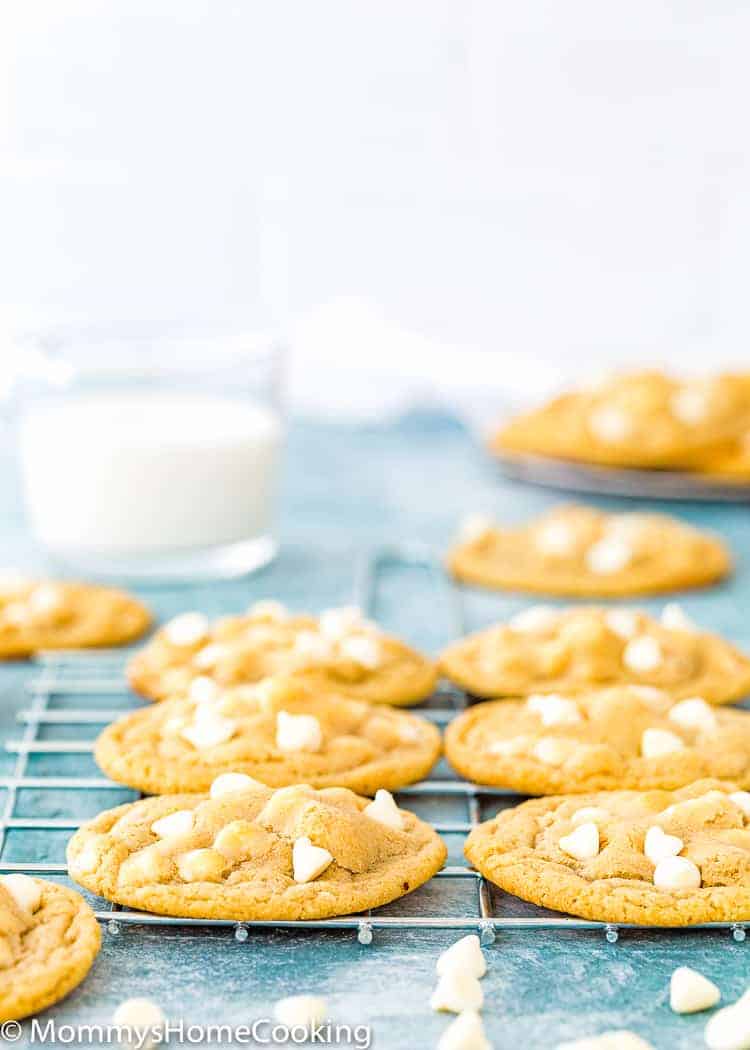 Eggless White Chocolate Chip Cookies Recipe
We're cookie lovers around here! And these Eggless White Chocolate Chip Cookies are one of our faves.
Our go-to cookies are these Perfect Eggless Chocolate Chip Cookies, which are supreme due to my secret ingredient. When kids want to bake, we rely on our favorite Eggless Chocolate Crinkles Cookies, they love to roll the cookies in powdered sugar. And for gatherings, these party-perfect Eggless Snickerdoodle Cookies are a no brainer – everybody like Snickerdoodles.
These eggless cookies are pretty simple to make. They have a great texture and they're packed with white chocolate.
These Eggless White Chocolate Chip Cookies are seriously delicious! But eggless cookies can be finicky so read all my tips below… so I say let's get baking!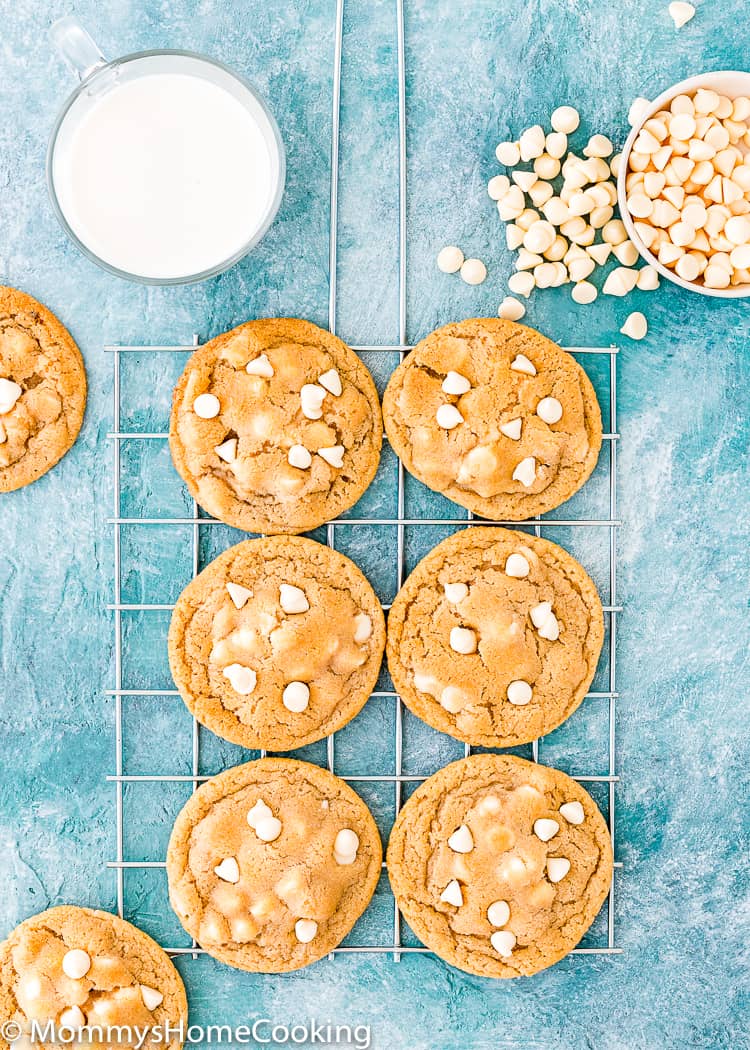 EGGLESS WHITE CHOCOLATE COOKIES INGREDIENTS:
You'll need:
All-purpose flour
Baking powder
Baking soda
Salt
Unsalted butter
White sugar
Brown sugar
Milk
Pure vanilla extract
White chocolate (chips or chunks)
Please check the recipe card at the bottom of the post for exact quantities and instructions (scroll down).
HOW TO MAKE EGGLESS WHITE CHOCOLATE COOKIES
Mix flour, baking powder, baking soda, and salt in a bowl.
Cream together butter and sugars.
Add milk and vanilla.
Add dry ingredients mixture.
Stir in white chips.
Roll dough into balls and refrigerate.
Bake.
Please check the recipe card at the bottom of the post for exact quantities and instructions (scroll down).
EGGLESS COOKIES FREQUENTLY ASKED QUESTIONS
DOES THE DOUGH NEED TO BE REFRIGERATED?
This type of cookie requires at least 1 hour of chilling, but I prefer to chill the dough overnight. The colder the dough, the thicker the cookies.
THE RECIPE CALLS FOR UNSALTED BUTTER BUT CAN I USE SALTED BUTTER INSTEAD?
Yes, you can! Just omit the extra salt called in the recipe.
CAN I MAKE THIS RECIPE GLUTEN-FREE?
Yes! Substitute all-purpose for 1-to-1 Gluten-Free flour (this is my favorite).
CAN I MAKE THIS RECIPE DAIRY-FREE?
Yes! Use your favorite plant-based milk, dairy-free or vegan butter, and dairy-free or vegan chocolate chips.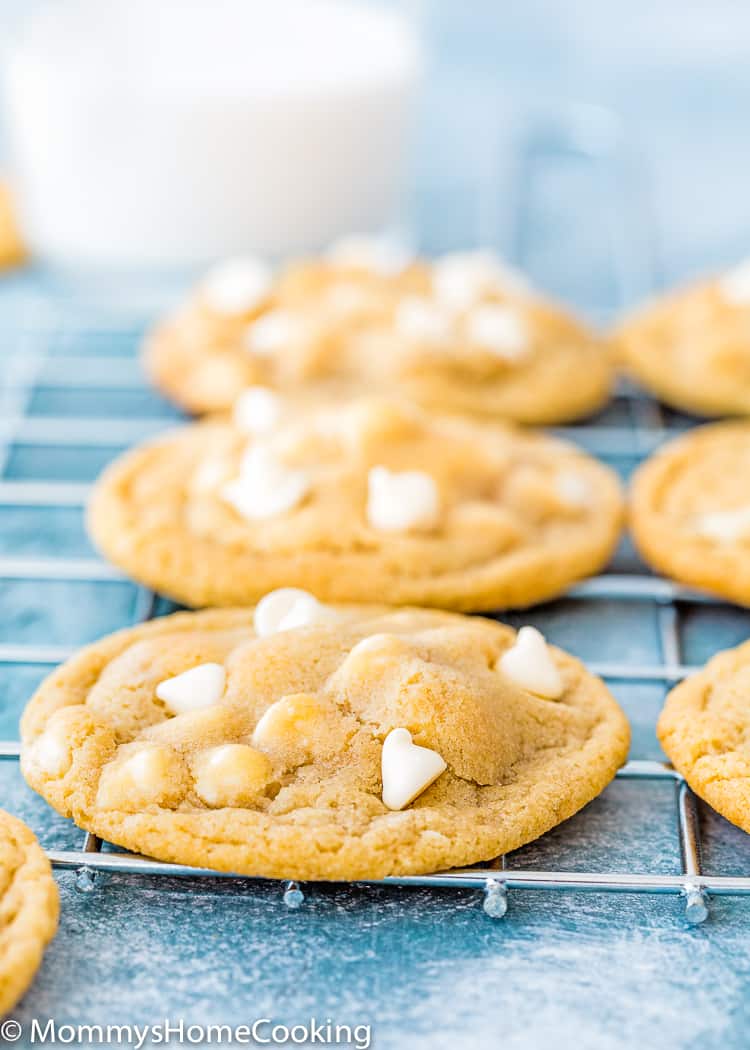 TIPS TO MAKE EGGLESS WHITE CHOCOLATE COOKIES:
Make sure the butter is softened, but not too soft.
Measure the ingredients properly! A kitchen scale is always the best option, in my opinion, but if you don't have a kitchen scale be sure to use a measuring cup made for dry ingredients (NOT liquid measuring cup), and liquid measuring cup for liquid ingredients. Also, do NOT dip a measuring cup directly into the flour bin or you can compact it and get up to 25% more flour, instead use a spoon to scoop the flour into the measuring cup and then use a knife (straight-edged) to level the flour across the measuring cup.
Don't over mix your cookie dough or you will end up with a dense cookie.
Chill the dough for 30 minutes before baking, this gives the dough a chance to firm up a little and allows them to bake much better.
For evenly sized cookies (better for baking) use a small spring-loaded ice cream scoop to spoon out the dough.
Bake the cookies until they are JUST golden around the outside. The cookies might still look a little raw in the center, but once they cool, they will be perfect. Let the cookies cool on the baking sheets for just a few minutes, around 2. If you leave the cookies on the baking sheets for too long, they will continue cooking and they will be hard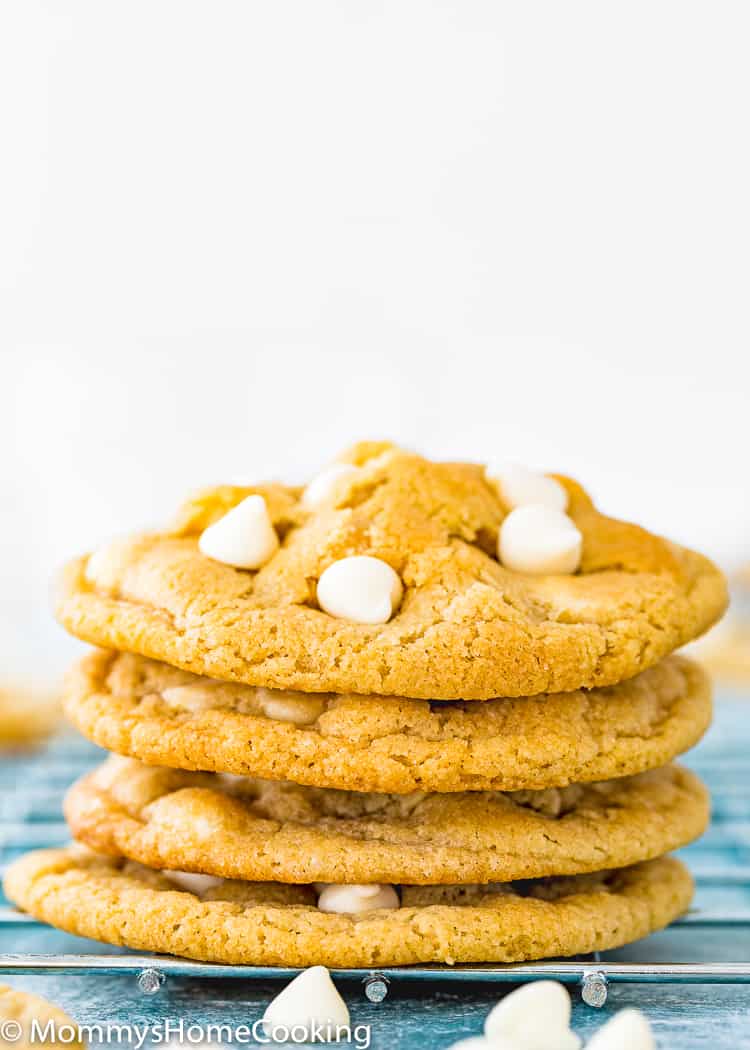 VARIATIONS YOU CAN APPLY TO THIS RECIPE:
Substitute ½ cup of white chocolate chips for ½ cup of chopped roasted salted macadamia nuts.
Substitute white chocolate chips for chopped Oreos.
Substitute white chocolate chips for butterscotch chips, cinnamon chips, or peanut butter chips.
STORING
Store cookies in an airtight container up to 5 days at room temperature. To keep the cookies soft, place a piece of bread in the container. The bread will get hard, but the cookies will stay soft.
FREEZING
You can freeze this cookie dough for up to 3 months. Just roll it into balls, and freeze. When ready to bake, pull them out and bake as directed, just add a couple of minutes to the baking time.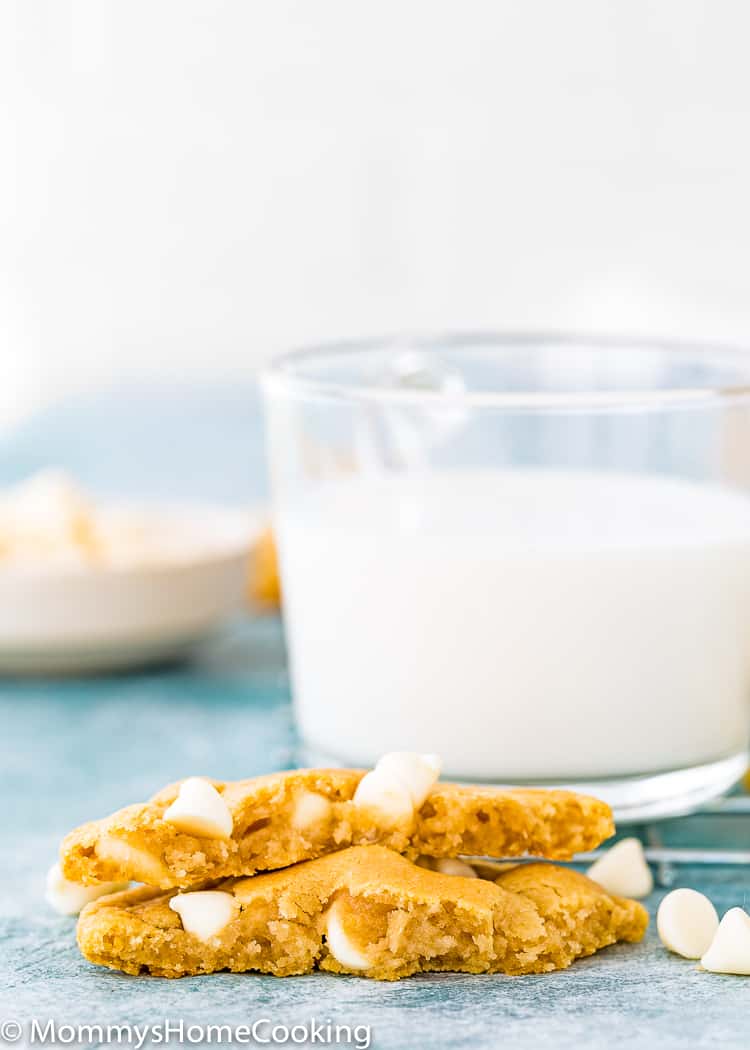 LOOKING FOR MORE EGGLESS COOKIE RECIPES?

---
Love what you see? Subscribe to Mommy's Home Cooking so you'll never miss a recipe! Follow along on Instagram, Pinterest, Twitter, and Facebook for more fun!
When you make this recipe, be sure to snap a photo and hashtag it #MommysHomeCooking. I'd love to see what you cook!
* This post contains affiliate links, thank you for the support in keeping Mommy's Home Cooking up and running!