These Eggless Chocolate Cupcakes are super chocolatey, moist, rich and delicious! They're easy to make, with just a handful of ingredients. Perfect for birthday parties, gatherings, celebrations or whenever the mood strikes.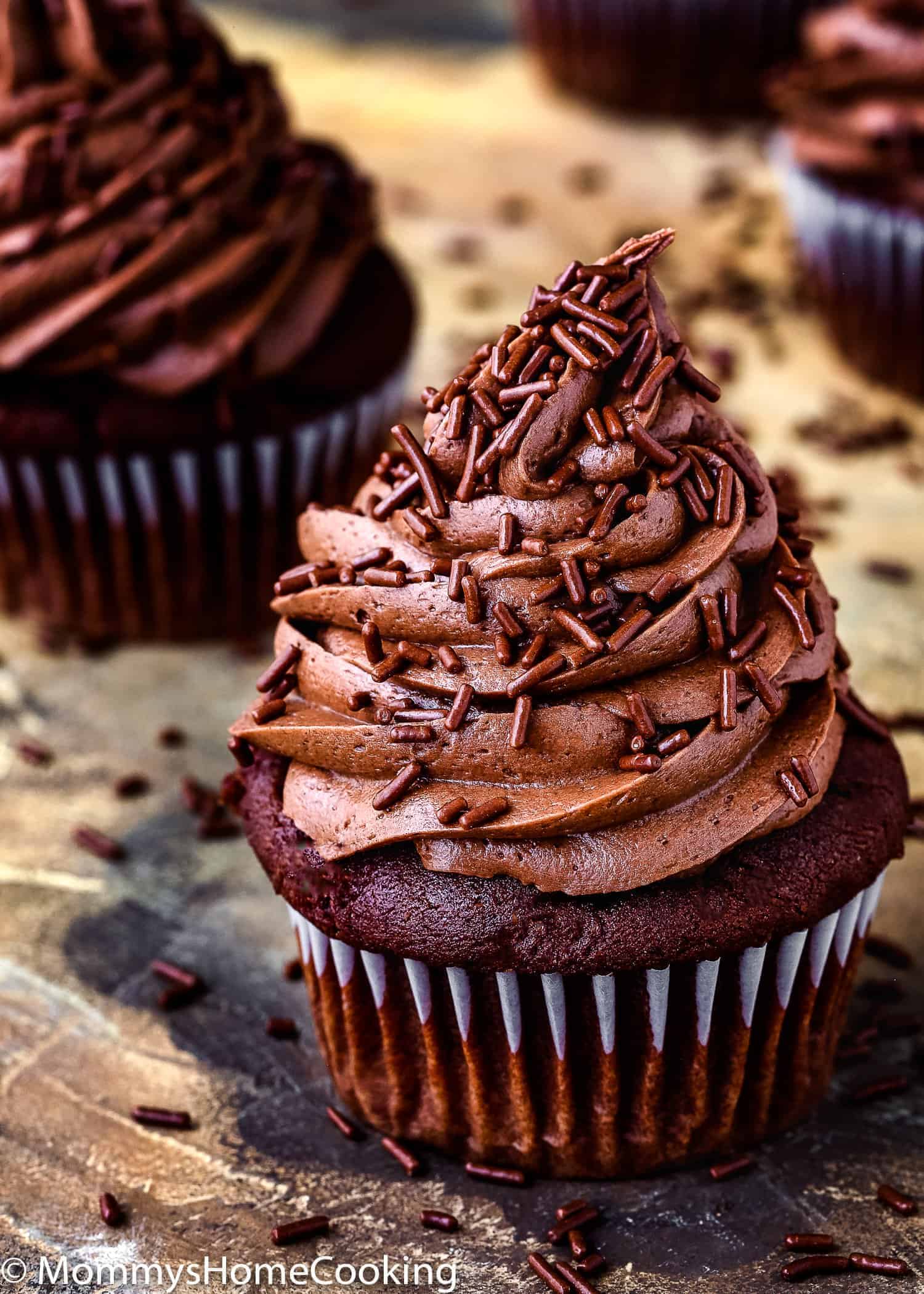 Oh My Chocolate!! These Eggless Chocolate Cupcakes are super chocolatey and rich. You are going to LOVE them.  Plus, they're easy to make, with just a handful of ingredients.
Perfect for those with egg allergies, but also great for those who ran out of eggs and are having a chocolate emergency. I can attest that chocolate emergency is a real thing [wink].
These were a hit with my family. They got 1230 stars and 2863 thumps-up. Now you can have an idea of how delicious they are. LOL.
These Eggless Chocolate Cupcakes may just be the moistest, fluffiest and most delicious cupcakes I've ever eaten!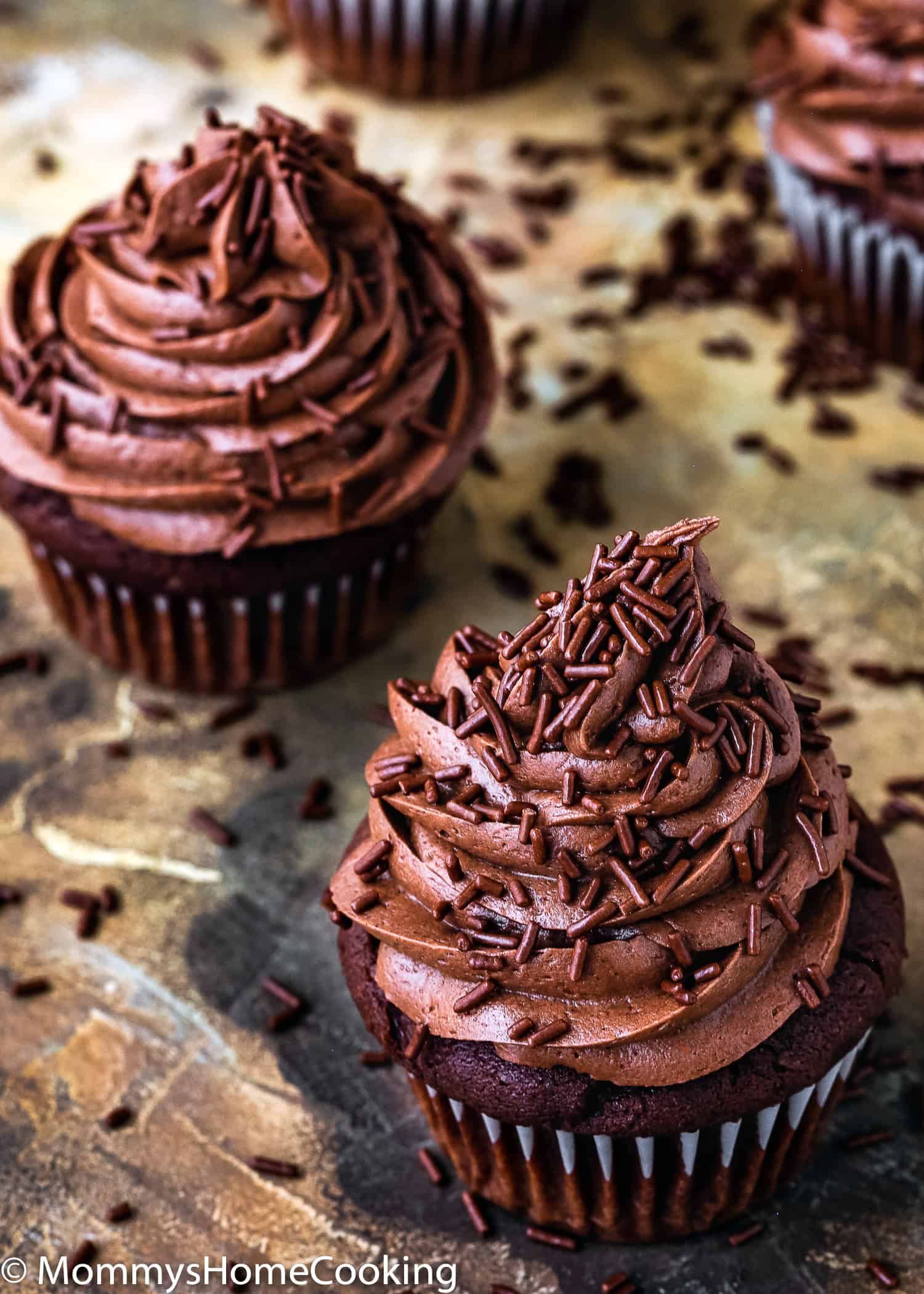 These Eggless Vanilla Cupcakes are incredibly fluffy and bursting with chocolatey-buttery flavor.
For the frosting, I made my Nutella buttercream, but you can use anything you like. If you are looking for a shortcut you can use a store-bought frosting.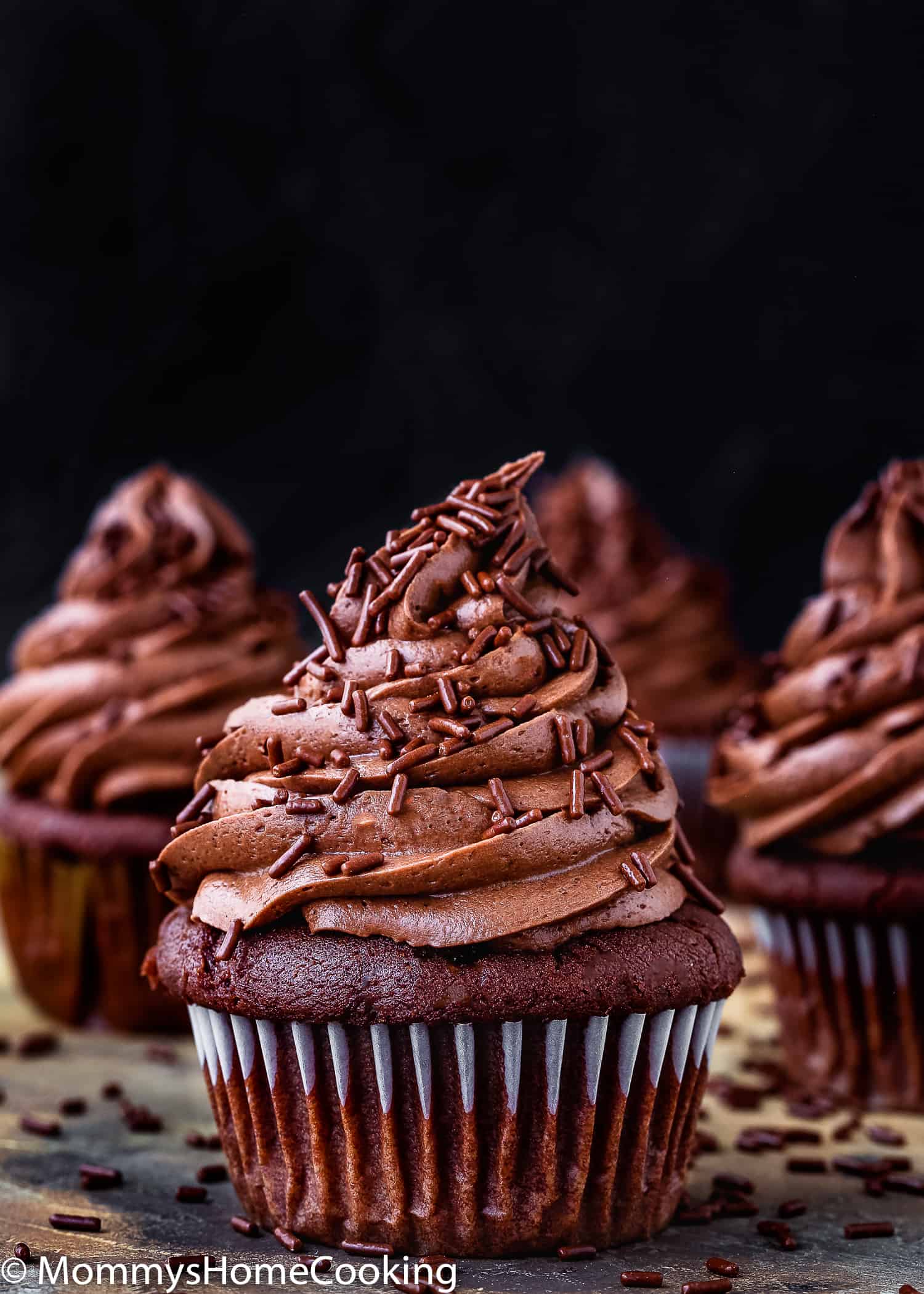 I usually make bigger batches of cupcakes because it's so easy to just put them in the freezer and then defrost one for a birthday or school parties or whenever the mood strikes. 
Freezing cupcakes is super convenient. 
For example, when my daughter has to attend a party I defrost a cupcake, add some icing and lots of sprinkles, of course, and pack it in this super convenient and cute cupcake container. 
HOW TO FREEZE CUPCAKES
First, let cupcakes cool COMPLETELY. Then, wrap cupcakes tightly in plastic wrap and place individually-wrapped cupcakes in a plastic double zipper quart freezer bags. Freeze the cupcakes for up to 1 month. I recommend freezing them without any icing or frosting on them as some icings can turn watery as they defrost. To defrost, unwrap cupcakes and bring them to room temperature.
Can I make this recipe into a cake?
If you want to make a cake check out my awesome recipe for Eggless Chocolate Cake. 
Do I have to use self-rising flour?
Not necessarily. You can use all-purpose flour but for each cup of flour add 1 1/2 teaspoon of baking powder + 1/4 teaspoon of salt.
Do I have to use buttermilk?
Yes, buttermilk is necessary for this recipe. 
HOW TO MAKE  BUTTERMILK?
Add 1 tablespoon of lemon juice or white vinegar to 1 cup of regular milk. Let stand 5 minutes.The milk will get thicker and clumpy and is ready to use in any recipe calling for buttermilk.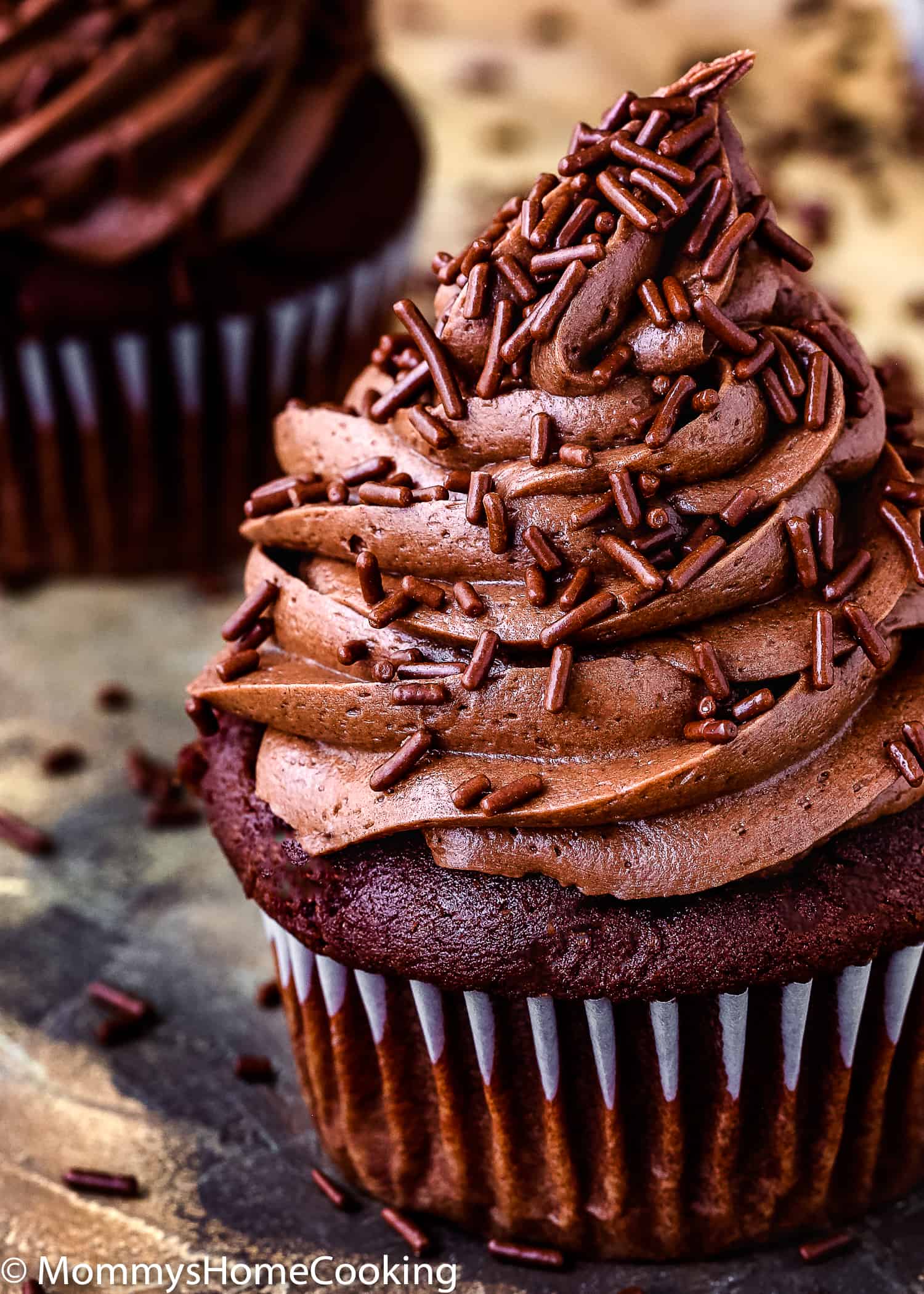 LOOKING FOR MORE EGGLESS RECIPES?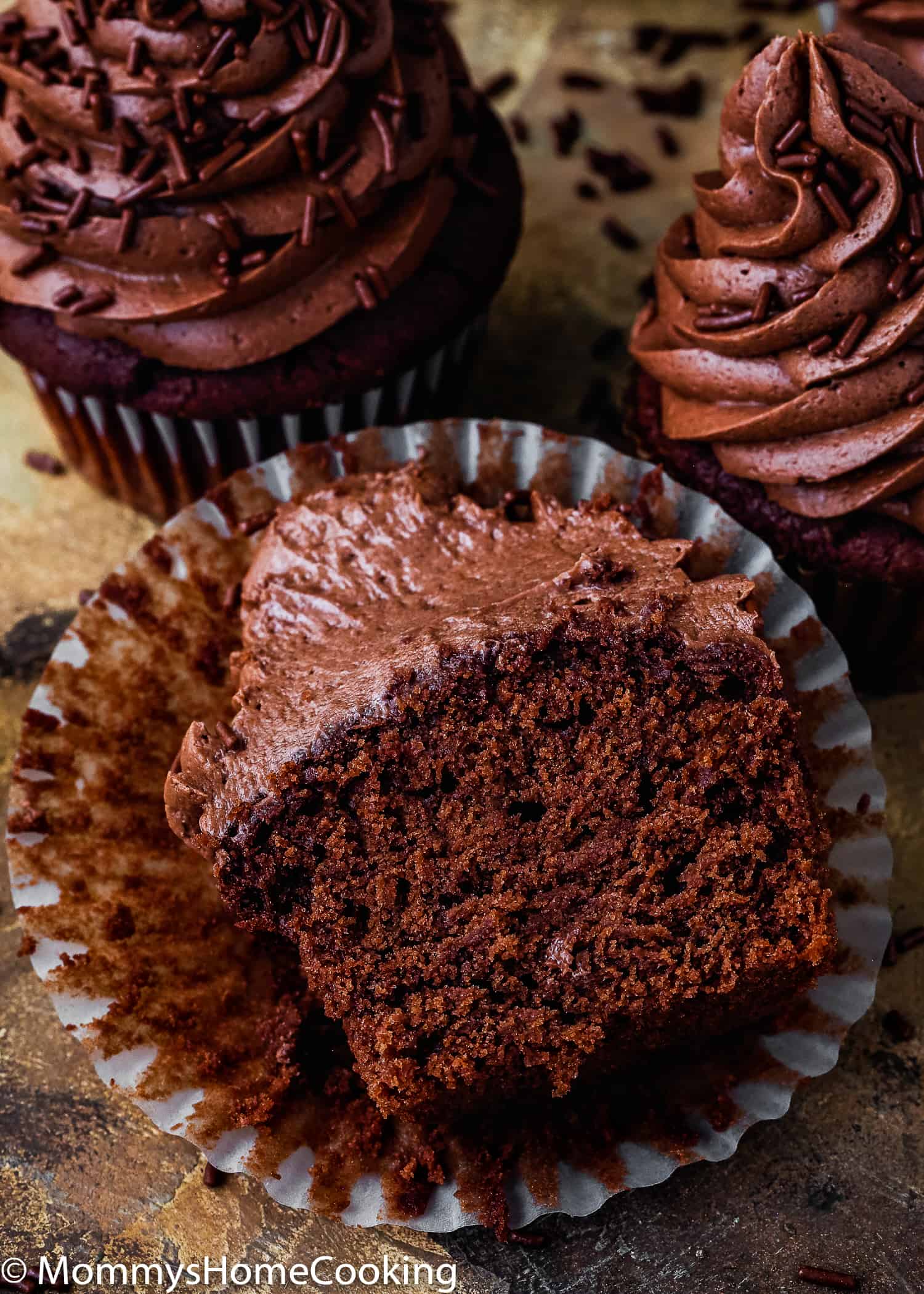 Today's chocolate cupcakes are for true chocolate lovers.
Definitely a wonderful Eggless Cupcake.
Happy Cooking!!!

---
Love what you see? Subscribe to Mommy's Home Cooking so you'll never miss a recipe! Follow along on Instagram, Pinterest, Google+, Twitter, and Facebook for more fun! 
?When you make this recipe, be sure to snap a photo and hashtag it #MommysHomeCooking. I'd love to see what you cook!
* This post contains affiliate links, thank you for the support in keeping Mommy's Home Cooking up and running!